Can you remember when you really enjoyed going out to eat without thinking about the calories and the fat?  When the conference room caused only business anxiety, not food anxiety?  Or when you could order straight off the menu without asking for any modifications?
How about shopping for food for your family, preparing it – only to have some love it and some hate it.  What about stocking your kitchen cabinets and refrigerator with what you think is a good selection of healthy food and then having family members complain that there's nothing in the house to eat?
We all need to eat and for some of us thinking about, reading about, ordering, and preparing food for family and friends takes up a lot of time – and can produce a good deal of stress.
My name is Penny Klatell and I understand what it's like to love food, to always think about food, and to constantly worry about what each morsel is going to do to the numbers on the scale.
I love to eat, I love to cook, and I really love to eat out. I can evaluate a menu or a buffet in about three seconds. I can usually figure out how accommodating a restaurant will be in about the same amount of time.  Why  — and  — how?
I'm a registered nurse (BS, Skidmore) with an MA and PhD  (NYU), a nutritional counselor (Institute for Integrative Nutrition/Teachers College), and a certified life, health, and wellness coach. I'm also a speaker and author, an Adjunct Associate Professor at NYU and have served on the faculties of Columbia, Pace, CCNY, Skidmore, Sacred Heart, and Iona.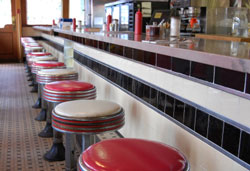 I grew up around food. True to my Greek heritage, my parents had an old fashioned New York City luncheonette – the kind with a long counter and booths in the back.  The "store," as it was referred to in my family, ruled our lives (my father was the best short-order cook I've ever seen).
I also saw the beginning of the food chain. My mother (who later taught restaurant management) grew up on a farm. I spent many vacations feeding chickens (I never liked them pecking at my heels), collecting eggs, and picking vegetables in my grandmother's very large vegetable garden.
I have struggled with my weight in the past and am vigilant and aware, on a daily basis, about the quantity and quality of the food that I eat. I regularly eat out for both business and pleasure, travel a lot, and know how difficult it is to order from a menu while trying to eat well. I cook and entertain for lots of people (it's a snap when you grew up doing it).  Having raised three athletic sons, I know how stressful it can be getting family dinners on the table and what it's like to be surrounded by food not necessarily conducive to easily managing your weight.
I honestly believe that you are what you eat.  Food has magical properties:  it is nourishing, sometimes medicinal, a social vehicle, and it expresses love, creativity and nurturing.  Growing, shopping for, and preparing food helps to teach children lifelong healthy habits and a respect for the food chain. 
It is my passion to share with you what I've learned – and continue to learn — about how to eat out (or in), eat well, and develop habits that make it possible to choose, prepare, and eat food you love while not dreading getting on the scale.
 I invite you to join me on this journey by reading, learning, sharing, commenting, and having a bit of fun.
Get more tips and strategies for eating out and eating well in Eat Out Eat Well Magazine available from iTunes and the Google Play store. Published seasonally, you can buy an individual issue for $1.99 or all four for $4.99.  Think of it as a bargain purchase for a slimmer waistline — almost like a delicious healthy dessert.