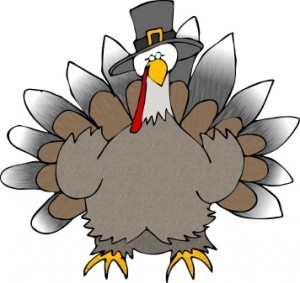 Stuffing – most of us love it, eat it, go back for seconds (thirds?), and then eat the leftovers.
But did you ever really think about stuffing – like why it's called stuffing (or dressing) and what makes it taste so good?
Ten Stuffing Tidbits
If you're beginning to get antsy about holiday eating, download my book, The Sensible Holiday Eating Guide: How To Enjoy Your Favorite Foods Without Gaining Weight, http://www.amazon.com/dp/B009VOFIK8 on Amazon.
Then sign up for a free ½ hour teleseminar on Thanksgiving Eating: Challenges and Solutions, https://eatouteatwell.com/thanksgiving-teleseminar-signup.  It'll be recorded if you can't make it, but you still need to sign up so I know where to email the link to the recording.