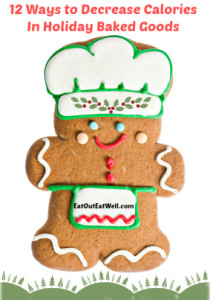 Does your holiday season mean, among other things, baking lots of cookies:  spritz, rolled, ginger bread men, meringues, powdered sugar cookies; savory and sweet breads; and whatever dessert sounds good (maybe even fruit cake – although not in my family).
If you added up the number of butter and sugar calories in all of these baked delights the total would be so staggering it would absolutely spoil their holiday deliciousness.
To lower the calories in baked goods try decreasing the amount of fat and sugar called for in the recipe.  Decreasing the amount of sugar by a third doesn't even really affect the taste – sometimes you need to experiment to see how it might affect the texture, too. Shown below are some other substitutions to try.  If you have some other ideas, please head on over to Eat Out Eat Well's Facebook page to share them.
Some Baking Substitutions To Try
 1.    For brownies, fruit breads, and cake-like cookies, use ¼ cup of applesauce and ¼ cup of vegetable oil or butter instead of a half cup of oil or butter – OR — replace half the butter or oil with unsweetened applesauce, pureed pumpkin, or mashed bananas. For every half-cup of oil you replace with pureed pumpkin, you'll save more than 900 calories and 100 grams of fat  — and pumpkin keeps baked goods moist.
2.    Use 2 egg whites or ¼ cup egg substitute for one egg; use 3 egg whites and 1 egg yolk for 2 whole eggs.
3.    Decrease the amount of sugar in your recipe by up to a half and add ginger, lemon zest, cinnamon, or cloves for some flavor.  Cinnamon, in particular, adds a sweet and warm taste.
4.    Substitute nonfat sweetened condensed milk for sweetened condensed milk or evaporated skim milk for evaporated milk.
5.    Instead of sour cream use nonfat or reduced fat sour cream, pureed low-fat cottage cheese, or low or nonfat Greek yogurt.
6.    Substitute reduced or nonfat cream cheese for cream cheese.
7.    Substitute non-fat, 1%, or 2% milk for whole milk and half and half for cream.  Or try using buttermilk, which is naturally low in fat.  Traditional buttermilk is the liquid left behind after churning the butter out of cream.
8.    Substitute 1/2 cup mini chocolate chips, chopped dried fruit, or chopped nuts for 1 cup of chocolate chips.
9.    Swap 3 tablespoons of cocoa powder plus 1 tablespoon of oil or water for one ounce of baking chocolate.
10.   Instead of frosting use sliced fresh fruit with a dusting of powdered sugar, sweetened and flavored (vanilla, peppermint) nonfat cream cheese, or nonfat whipping cream.
11.    For fruit pies, use half the sugar called for in the recipe — this saves 774 calories for every cup of sugar you don't use.
12.    Substitute part-skim ricotta cheese for cream cheese in cheesecake, which will double the protein and cut the fat by about 60 grams for each cup.
Spoon-in-the-mouth-tip:  "Tastes" aren't calorie-free. The dough from the bowl has the same number of calories as the baked cookie, cake, or bread -– and the calories add up pretty quickly. Dump the bowls and beaters into the sink as soon as you're finished with them to help resist temptation (and constant nibbling).
Remember to head on over to Eat Out Eat Well's Facebook page if you have other baking substitutions or swaps that you'd like to share.