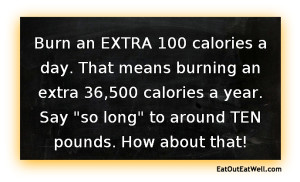 Want to burn some extra calories?  Try fitting in a couple of these activities in every day.
A 150 pound person would burn around 100 calories by:
Casually biking for 23 minutes
Using the elliptical for 8 minutes
Walking stairs for 11 minutes
Doing yoga for 20 minutes
Doing zumba for 11 minutes
Doing pilates for 24 minutes
Dancing around the kitchen for 20 minutes
Washing the car for 20 minutes
Pushing a stroller for 35 minutes
Walking the dog for 26 minutes
Cooking for 34 minutes
Cleaning the house for 26 minutes
Carrying five grocery bags from the car to the kitchen, putting the food away, taking out the trash, washing the dishes, and wiping down the kitchen counter
Leisurely walking in the park for 51 minutes
Chewing sugar free gum for nine hours
This is the end of the fourth week of the lose 5 pounds in 5 weeks challenge.  How have you been doing?  Let us know on Facebook.