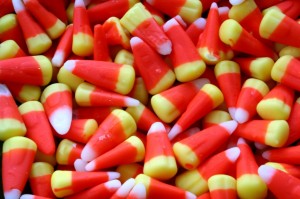 Halloween conjures up images of ghosts, ghouls, witches – and candy corn, tootsie rolls, snickers, and kit-kats.  The Halloween costumes vary depending on what's trendy – and the Halloween candy varies depending on what's on sale, what you buy, what you like or dislike, and what makes it's way into the house in trick or treat bags.
Halloween happens.  Trick or treating happens.  Candy is around – everywhere.  You're probably going to eat some candy.  So, make a plan for when and how much.  If it's one day of candy it's no big deal – but, days and weeks worth of candy can definitely be a big and weighty deal.
But – you don't have to attack the bags full of your favorite sweet stuff in the days and weeks leading up to Halloween.  You know the scenario – you bought those big bags because they were such a good price – and then you end up having to buy more candy to give to trick or treaters because the candy you bought at such a bargain price has been devoured.
Three Tips To Avoid Eating Candy Before Halloween
Don't buy candy ahead of time.  It's so darn easy to be swayed by the monster sized bags of midget candy bars or sweet tarts, or M&Ms, or tootsie roll pops.  The bags are priced to sell and practically jump off the shelves at you as you walk down the aisles in the grocery store or drug store.  The retailers are just itching to sell you candy nice and early so you have to come back for a repeat buying performance.
When you buy candy – even if it's the day before or the day of Halloween, buy candy you hate – or at least dislike.  Very simply – if you don't like it, there's less of a chance you'll eat it.  It doesn't mean that you won't eat it – just that it's less likely that you will — and if you do, maybe it won't be the whole bag.
If the candy does make its way into your house or your workplace – get it out of your sightline.  It's very simple:  if you see it you eat it.  And, we're lazy – so the more energy you need to use to get to the candy, the less likely you are to do it.  So, hide it in the back of the top shelf of the cabinet, or in the freezer, or in the basement, or in the garage.  Be creative – just don't forget where you've hidden it so that you have to buy more and then, months later, you find old Halloween candy when you're cleaning out some random closet.
For more tips and strategies on handling holiday eating from Halloween right through Valentine's Day be sure to read my new book, The Sensible Holiday Eating Guide: How To Enjoy Your Favorite Foods Without Gaining Weight, coming soon to Kindle and Kindle readers.