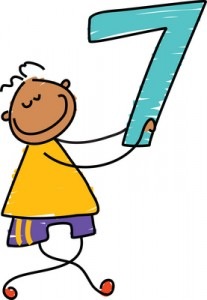 Accomplish at least six of the following seven heart-health lifestyle factors and, on average, over 14.5 years (the length of time of the study's follow-up) you'll be 51% less likely to die of all causes and 76% less likely to die of cardiovascular causes – as compared to people meeting only one or none of the factors.
The 7 Factors:
Don't smoke
Be physically active
Have normal blood pressure
Have normal blood glucose
Have normal total cholesterol levels
Don't be overweight or obese (have a BMI of less than 25)
Eat a healthy diet
This Is A Case Where More Is Better
The more factors you meet, the better the result.  The benefits went beyond cardiovascular disease.  According to the researchers, meeting a greater number of the health goals appeared to be associated with a lower risk for all cancer mortality.
The study, published in JAMA and presented at a specialty meeting of the American Heart Association, analyzed data on 44,959 US adults who completed national health and nutrition surveys.
What Eating A Healthy Diet Means
Eating a healthy diet was scored based on 5 American Heart Association recommendations.  They consist of:
Eating 4.5 cups or more of fruit and vegetables daily
Having 2 or more 3.5 oz. servings of fish each week
Having 3 or more servings (1 oz equivalent) of fiber rich whole grains each day
Having less than 1500 milligrams of sodium daily
Having no more than 36 oz. of sugar sweetened beverages in a week
Meeting three or more of these recommendations counted as meeting the healthy diet factor.
The Benefits Are Cumulative
The conclusion of the study was:  "Meeting a greater number of cardiovascular health metrics was associated with a lower risk of total and CVD mortality, but the prevalence of meeting all 7 cardiovascular health metrics was low in the study population."
But, the benefits are cumulative.  Try changing just one factor at a time – which could make a big difference.  Think about starting with whatever factor is easiest for you to accomplish – do it – and then move on to the next one.