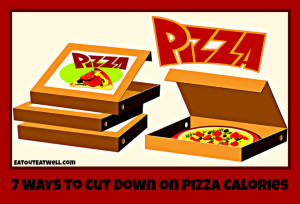 Have you had "a slice" recently?  If you did, consider it one of the 46 slices that American men, women, and children eat, on average, in a year.
94% of Americans eat pizza regularly
Pizzerias represent 17% of all restaurants and pizza accounts for more than 10% of all food service sales
Kids 3 to 11 prefer pizza over other food groups for both lunch and dinner
In the US, 61% prefer regular thin crust, 14% prefer deep-dish, and 11% prefer extra thin crust
62% of Americans prefer meat toppings; 38% prefer vegetables
36% order pizza topped with pepperoni
What's Good, What's Not-So-Good?
It's difficult to estimate the number of calories and fat grams in a slice of pizza because the size and depth of the pies and the amount of cheese, meat, or other toppings vary enormously.
Here's the good news: pizza can be a healthy food choice filled with complex carbs, B-vitamins, calcium, protein, vitamin A, and vitamin C and calorically okay if you choose wisely and don't eat more than your fair share.
The not so good news:  fat and calories. If your mouth starts to water at the thought of golden brown crust and cheesy goodness — here's the downer: that luscious pizza can be a fat and calorie nightmare.
Mall Pizza Can Be Okay — And Not Okay
Sbarro's Low Carb Cheese Pizza has 310 calories and 14 grams of fat.
Sbarro's Low Carb Sausage/Pepperoni Pizza has 560 calories and 35 grams of fat.
A slice of Sbarro's Fresh Tomato Pizza clocks in at 450 calories with 14 grams of fat.
Any of Sbarro's "Gourmet" pizzas have between 610 and 780 calories a slice and more than 20 grams of fat.
"Stuffed" pizzas are even worse—790 calories minimum and over 33 grams of fat per slice.
The membership warehouse club Costco has 416 domestic locations, and most of them have a food court that sells pizza, making Costco the 15th largest pizza chain in the US. They serve a whole lot of pizza and a whole lot of calories.
A single slice of Costco pizza is estimated to have 804 calories, 342 of them from fat.
Build a Better Slice of Pizza
Although we all have our own pizza preferences, the next time you order try some of these tricks to keep your choice on the healthy side:
Order thin crust rather than a thick doughy or deep dish crust.
Resist the urge to ask for double cheese  — better yet, go light on the cheese or use reduced-fat cheese (if they have it).
Ask for a pizza without cheese but topped with veggies and a little olive oil. You can always sprinkle on a little grated parmesan – 1 tablespoon has 22 calories — for flavor.
Instead of cheese go for big flavors:  onion, garlic, olives (use them somewhat sparingly because of the oil but they're a whole lot better than meat).  And don't forget anchovies  — a lot of flavor for minimal calories – but you have to like them!
Choose vegetable toppings instead of meat (think about the fat content in sausage, pepperoni, and meatballs) and you might shave 100 calories from your meal. Pile on veggies like mushrooms, peppers, olives, tomatoes, onion, broccoli, spinach, and asparagus. Some places have salad pizza – great if it's not loaded with oil.
Order a salad (careful with the dressing) on the side and cut down on the amount of pizza.  Salad takes longer to eat, too.
If you're willing (and not embarrassed or grossed out), try blotting up the free-floating oil that sits on top of a greasy slice. Blotting (it's easy to do this on the kind of hot slice where the oil runs down your arm) can soak up a teaspoon of oil worth 40 calories and 5 grams of fat.
This is the fifth week of the lose 5 pounds in 5 weeks challenge.  How are you doing?  Let us know on Facebook — and remember to "Like" Eat Out Eat Well when you're there! Visit Eat Out Eat Well's boards on Pinterest, too.