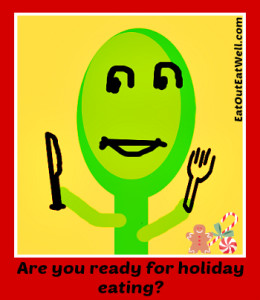 Holiday cookies, latkes, pumpkin pie, cornbread stuffing, eggnog, and a relative's specialty of the season … food, food, food!
'Tis the season to eat and there are "food landmines" everywhere you turn. We all have to eat but it can be a very slippery slope to eat well surrounded by food; family; friends; an encyclopedia of cultural, religious, and family traditions; and a whole host of expectations.
Holidays are supposed to be days of celebration and special significance — often religious, cultural, or traditional. Sometimes, they're days just meant for play. A common denominator is that we often incorporate food – and lots of it — into celebrations.
Realistically, the actual content of your Thanksgiving, Hanukkah, Christmas, or other holiday meal matters very little in the grand scheme of things. Although a few hundred calories here or there can make a difference when added up over weeks and years, the impact of overeating at one meal is usually negligible – even though your stomach might be singing a different song.
It's the inevitable mindless eating – those treats on the receptionist's desk, the gift of peanut brittle, the holiday toasts, the second and third helpings, the holiday cookies in the snack room – that are the main source of excess calories and added pounds during the holiday season.
What To Do
 See it = eat it. It's incredibly difficult not to nibble your way through the day when you have delicious treats tempting you at every turn. How many times do your senses need to be assaulted by the sight of sparkly cookies and the holiday scent of eggnog or spiced roasted nuts before your hand reaches out and the treat is popped into your mouth?
Don't keep your trigger foods stocked in your pantry or fridge.  If you need to have supplies, don't make them immediately visible.  Hide them in the back of the cabinet or in a "not too easy to be reached" location.
 Be aware of openly displayed platters and bowls of cookies, nuts, candy, and other holiday specialties.  Make up your mind that it's not okay – just because it's the holidays – to taste test everything that crosses your path.
Coming soon to the Apple newsstand for your ipad and iphone:  Eat Out Eat Well Magazine!