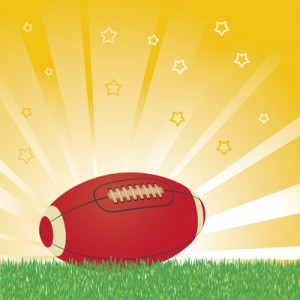 Will you be joining the ranks of over 20 million Americans who will attend a Super Bowl party?  Do you side with half of all Americans who say they would rather go to a Super Bowl party than to a New Year's Eve party?
Some Amazing Super Bowl Food Facts:
About one in twenty (9 million) Americans watch the game at a restaurant or a bar.
Americans double their average daily consumption of snacks on Super Bowl Sunday, downing more than 33 million pounds in one day.
The average Super Bowl watcher consumes 1,200 calories. (Source: Calorie Control Council). Potato chips are the favorite and account for 27 billion calories and 1.8 billion fat grams — the same as 4 million pounds of fat or equal to the weight of 13,000 NFL offensive linemen at 300 pounds each. (Source: ScottsdaleWeightLoss.com).
Nearly one in eight (13%) Americans order takeout/delivery food for the Super Bowl. The most popular choices are pizza (58%), chicken wings (50%), and subs/sandwiches (20%). (Source:  American Journal).  Almost 70% of Super Bowl watchers eat a slice (or two or three) during the game.
The amount of chicken wings eaten clocks in at 90 million pounds or 450 million individual wings. It would take 19 chicken breasts to get the same amount of fat that you usually get from a dozen Buffalo wings.
On Super Bowl Sunday Americans eat an estimated 14,500 tons of potato chips, 4000 tons of tortilla chips, and eight million pounds of avocados. Five ounces of nacho cheese Doritos equals around 700 calories. You'd have to run the length of 123 football fields to burn them off.  You'd have to eat 175 baby carrots or 700 celery sticks to get the same number of calories.
Stew Leonard's, a local chain of southwestern Connecticut grocery stores, sold more than 40,000 pounds of chicken wings and 10,000 pounds of barbecued ribs and 60,000 pigs-in-blankets ahead of Super Bowl Sunday in 2012.  This year they are slso offering some healthy alternatives along with the traditional game day food.  Choices include: grilled or roasted Mediterranean vegetables, hummus instead of high-fat and high-calorie sour cream onion dip, pita instead of potato chips, and provolone salad on crostini made from aged provolone diced with roasted peppers, carrots, red onions, parsley, basil, olive oil, salt, pepper, red pepper flakes, white vinegar and a touch of brown sugar on pieces of fresh, crusty bread.
And, according to 7-eleven, sales of antacids increase by 20% on the day after Super Bowl.
Super Bowl Party Calorie Saving Tips
Stick with grilled meat, veggies, or baked chips rather than fried.
Turkey, baked ham, and grilled chicken are better choices than wings and fried chicken.
Plain bread, pitas, or wraps are less caloric than biscuits or cornbread.
Go for salsa and skip the guacamole.
Minimize calories by dipping chicken wings into hot sauce instead of Buffalo sauce.
Try using celery for crunch and as a dipper instead of chips.
Go for thin crust rather than thick doughy crust pizza. Choose the slices with vegetables, not pepperoni or meatballs.  If you're not embarrassed, try blotting up the free-floating oil that sits on top of a greasy slice (soak up even a teaspoon of oil saves you 40 calories and 5 grams of fat).
Alcohol adds calories and dulls your mindful eating. Try alternating water or diet soda with beer or alcohol.  That can decrease your alcohol calories (alcohol has 7 calories/gram) by 50%.
The next post will give some examples of Good, Better, And Best Super Bowl Food Choices.