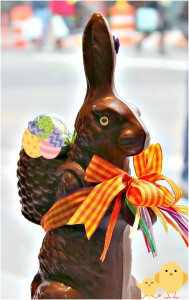 It's time for pretty chocolate eggs nesting in baskets, bunnies and ducks in all shades of chocolate, and brightly wrapped candy stuffed in plastic eggs for Easter egg hunts.  Couple that with chocolate smeared over little kids' faces and indestructible fluorescent peeps molded into weird shapes before they're popped in your mouth.
It's Easter candy time.  Admit it – Easter candy is seductive.  How can you not break off the chocolate bunny ears or eat your way through a basket of mini-chocolate Easter eggs?
If you're going to indulge — and sometimes it's worth it — you might as well know a little about your chocolate Easter candy.
Ninety million chocolate Easter bunnies are made every year.  76% of Americans think that chocolate bunnies should be eaten ears first, 5% think bunnies should be eaten feet first, and 4% like to eat the tail first. Despite the virtues of dark chocolate, 65% of adults prefer milk chocolate.
Easter Eggs – the Confectionary Type
Chocolate eggs can be found in all sizes and at every price point.  Some are piped with flowers and others are wrapped in foil.  You find them in chain stores, discount stores, and at high-end chocolatiers. Easter is ranked second for holiday for candy purchases in the US (just behind Halloween) and solid, hollow, and filled chocolate Easter eggs are one of the most popular choices.
Although John Cadbury made the first French Eating Chocolate in 1842, Cadbury Easter Eggs didn't arrive until 1875. They're a far cry from today's Cadbury Crème egg (which now also comes with caramel, chocolate, and butterfinger fillings). Cadbury Dairy Milk Chocolate appeared on the market in 1905 and helped boost the sale of chocolate Easter eggs. Today's chocolate Easter eggs are predominantly solid, hollow, decorated, and filled milk chocolate.
A Cheat Sheet For Popular Chocolate Easter Eggs (and a bunny)
As tough as it may be to admit, chocolate is a high calorie, high fat food.  Hershey says that nearly all of its chocolate products have been certified Kosher by the OU (Union of Orthodox Jewish Congregation). Here's a cheat sheet for some of the most popular chocolate eggs:
Hershey's Cadbury Chocolate Crème Easter Egg:  1 egg (39g), 180 calories, 8g Fat (5g saturated), 25g carbs, 2g protein
Hershey's Cadbury Crème Egg, original milk chocolate with soft fondant crème center:  1 egg (39g), 170 calories, 6g fat (3.5g saturated), 28g carbs,  2g protein
Hershey's Cadbury Mini Egg:  solid milk chocolate eggs with a crispy sugar shell: 12 eggs (40g), 200 calories, 9g fat(5g saturated), 28g carbs, 2g protein
Hershey's Milk Chocolate Eggs:  7 pieces, 200 calories, 12g fat (7 saturated), 24g carbs, 3g protein
Dove Silky Smooth Milk Chocolate Eggs: 6 eggs, 240 calories, 14g fat (8g saturated), 26g carbs, 3g protein
Dove Rich Dark Chocolate Eggs:  6 eggs (43g), 220 calories, 14g fat (8 saturated), 26g carbs, 2g protein
Reese's Milk Chocolate and Peanut Butter Eggs:  5 pieces (38g), 190 calories, 12g fat (6 saturated), 21g carbs, 4g protein
M & M's Milk Chocolate Speck-Tacular Eggs: 1/4 cup (12 pieces): 210 calories, 10g fat (6 saturated), 29g carbs, 2g protein
Solid Milk Chocolate Easter Bunny:  2.5 oz, calories: average 370
But Isn't Chocolate Good For Me?
The health benefits in chocolate come from cocoa. Dark chocolate has a greater concentration of cocoa than milk chocolate.  White chocolate, without any cocoa in it, isn't really chocolate.
Chocolate, especially dark chocolate, can be heart healthy if it replaces an unhealthy, high calorie snack, but there's still no recommended amount to eat to get the health benefits.
The Bottom Chocolate Line
Chocolate, especially dark chocolate, contains flavonols which have antioxidant qualities and other positive influences on heart health. Just remember that those delicious, pastel wrapped chocolate Easter eggs are caloric and moderately high in fat, one-third of it the type of saturated fat that isn't heart healthy.
Extra ingredients like crème and caramel fillings can add lots of extra fat and calories. There's no recommended serving size of chocolate to help gain cardiovascular benefits. If you're going to choose a sweet treat, chocolate — especially dark chocolate with a high cocoa concentration — might be a healthier choice than other types of sweets.
Easter Candy Tally
Eating 25 small jelly beans, 5 Peeps, a 1 3/4 ounce hollow chocolate bunny, and 1 Cadbury Creme Egg, which is not an unusual amount of Easter candy, tallies 730 calories.
You'd need to walk 7.3 miles, 11.77 kilometers, or 14600 steps, assuming you cover one mile in 2,000 steps to walk off that number of calories.  Sounds like a lot, but very doable over a few days.
Up next: jelly beans and peeps.  What's your favorite?