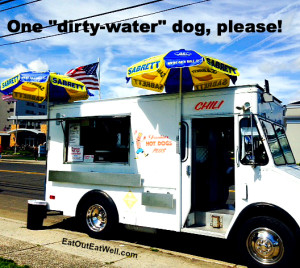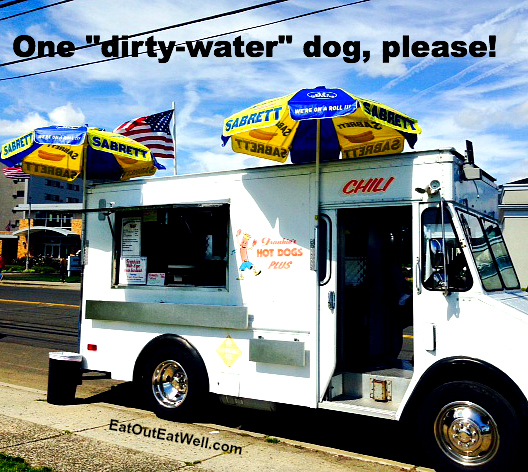 "Dirty-water dogs!" You love 'em (chances are you grew up in NYC), you can't stand the thought of them, or you haven't tried them – yet.
Want one? Look for blue and yellow striped Sabrett umbrellas (sometimes green and white, per regulation, in NYC parks).There seem to be a lot of foodtrucks with blue and yellow Sabrett umbrellas, but you can still find plenty of pushcart vendors hawking frankfurters – even if some of them are now cooked on grills rather than plucked out of pots of warm ("dirty") water.
The Dirty-Water Dog
"Dirty-water dogs" are hot frankfurters plucked out of a metal vat full of warm, salty liquid. How long the hot dog has sat in in it's warm bath is anyone's guess – a time frame probably dependent on how many sales have been made and how long the vendor chooses to leave them in there.
The cooking process is simple. Dump the dogs in the water. Snatch them out for a waiting customer, drop them onto a soft (non-grilled) bun that sops up the wetness that clings to the dog, and add on whatever else (sauerkraut, chili, condiments) the customer wants. If you're in NYC, go for the famed tomato/onion mixture. Classic NYC street food.
The Origin of the Hot Dog
Hot dogs are derivatives of sausage and sausage has been around a long time – it's one of the oldest forms of processed food having been mentioned in Homer's Odyssey in the 9th century BC.
Although there's really no consensus on the origin of the "hot dog" (or the "dachshund" or "little-dog" sausage), credit is usually given to Frankfurt-am-Main, Germany around the year 1487. That means the little dog sausage was being happily eaten five years before Christopher Columbus set sail for the new world. The name "hot dog" probably began as a joke referring to the small, long, thin dachshund.
Who served the first North American dachshund sausage (hot dog) wrapped in a roll is also in doubt: maybe the German immigrant who, in the 1860's, sold them with milk rolls and sauerkraut from a push cart on the Bowery in NYC. Maybe it was the German butcher who opened up the first Coney Island hot dog stand in 1871 and sold 3,684 dachshund sausages in milk rolls his first year in business.
A baseball stadium staple since 1893, the sale of hot dogs as game day food is credited to a St. Louis German immigrant bar owner who also owned the St. Louis Browns major league baseball team.
in the 1890s, the word "hot dog" began appearing in college magazines. Students at Yale called the wagons selling hot sausages in buns outside their dorms "dog wagons." An article in the October 19,1895 Yale Record described people as "contentedly munching on hot dogs."
The Pushcart and the Dirty-Water Dog
Pushcarts used to be made of wood. Cooking sausage dogs over an open flame on a wooden pushcart meant carts that could – and many did – go up in smoke. The solution: around the beginning of the 20th century, pushcart vendors started heating hot dogs in water instead of on an open flame.
After the pushcart transition from wood to stainless steel, hot dog pushcarts all looked pretty much the same – rectangular stainless steel carts on wheels with a hinged bins for the dog water, shelves for squeeze bottles of condiments, and the ubiquitous umbrellas.
Carts began to change and varying types of permits allow for expanded menus. With a non-processing permit vendors can only sell pre-made food like dirty-water dogs and pretzels. A processing permit allows them to cook food like kebabs and falafel – and, since grills allow the vendors to cook, they can also grill hot dogs.
Dirty-Water Dogs
New York's iconic pushcart hot dogs –New Yorkers eat millions of them a year — come mostly from the company, Sabrett. You can spot Sabrett yellow and blue striped umbrellas on most carts. Sabrett calls it's product "New York's # 1 Hot Dog, renowned for the famous snap! of it's natural casing, all-beef frankfurter."
The water that the hotdog sits in isn't – or shouldn't be — dirty, even though it looks like it when the vendor sticks long tongs into a vat of gray foamy covered liquid. That's not scum on top of the liquid but a froth from the combination of warm water flavored with the juice, salt and meaty leakage from all the hotdogs that have been sitting in their warm water bath.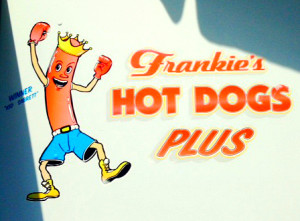 Despite greater availability of grilled hot dogs, the president of Sabrett says there hasn't been a major fall-off in "dirty-water" hot dog sales. He says that the regulars stand firm in their preference for dirty-water dogs, a sentiment echoed by the owner of the truck in the photo. He says he'll grill a dog if someone wants, but that he uses his grill mostly for rib-eyes. His regulars prefer a dirty-water dog – and he smiles as he calls it that. However, he assures me his water is clean not dirty!
Kitchen "Dirty-Water Dogs"
In case you have a hankering for a "dirty-water dog" and there's no pushcart in sight, here's the recipe for a self-made version, along with tomato-onion topping, from Epicurious.
Ingredients
2 tablespoons red vinegar
1/8 teaspoon ground nutmeg
Favorite hot dogs, not skinless
Large yellow onion, peeled and coarse sliced
3 tablespoons cooking oil
Pinch of crushed red pepper and hot sauce to taste, optional
1/4 cup tomato sauce, or ketchup for a sweeter version
Preparation
In a covered 4 quart saucepan, bring the water to a low simmer, and add vinegar, cumin, and nutmeg.
Add up to two packages of hotdogs and cover for at least ten minutes.
For the onion sauce:
Heat the oil and red pepper in pan over medium heat
Saute the onion 3 to 4 minutes, until about half opaque
Reduce the heat and keep the ingredients warm
Stir in vinegar and slowly add tomato until you reach the desired thickness
Serve dogs on warmed buns with warm onion sauce or sauerkraut and any other toppings.