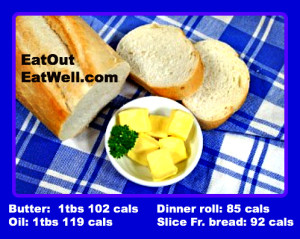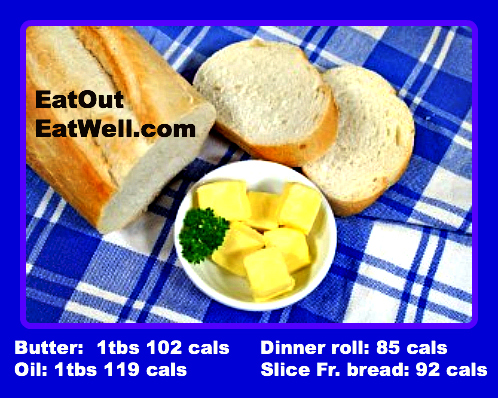 Do you mindlessly chow down on bread and butter or oil before a meal either because you're hungry or because it's there for easy nibbling?
Butter, Oil, And Bread Can Add A Big Caloric Punch
A tablespoon of olive oil has 119 calories, a tablespoon of butter has 102 calories, one pat of butter has around 36 calories.
Butter and oil are all fat; olive oil is loaded with heart healthy monounsaturated fat, butter is filled with heart unhealthy saturated fat.
Bread varies significantly in calories depending on the type of bread and the size of the piece. Harder breads and breadsticks are often less caloric than softer doughy breads.
Most white bread and a small piece
 of French bread averages around 90 to 100 calories a slice. Dinner rolls average 85 calories each.
If you're eating Mexican food, bread may not appear, but a basket of chips adds around 500 calories.
Who Takes In More Calories – Butter Or Olive Oil Eaters?
In a study done by the food psychology laboratory at Cornell University found that people who put olive oil on a piece of bread consume more fat and calories than butter users even though they end up eating fewer pieces of bread.
The researchers found that olive oil users:
used 26% more olive oil on each slice of bread compared to block butter users (40 vs. 33 calories)
ate 23% less bread over the course of a meal than butter users taking in 17% fewer bread calories:  264 calories (oil users) vs. 319 calories (butter users).
Can you see how you can easily save close to 500 calories by nixing the bread or chip basket?
This post is a tip for the 500 calorie challenge:  lose 5 pounds in 5 weeks.