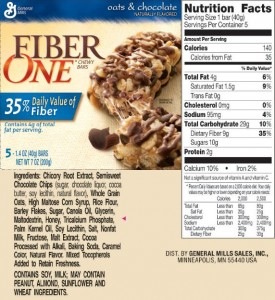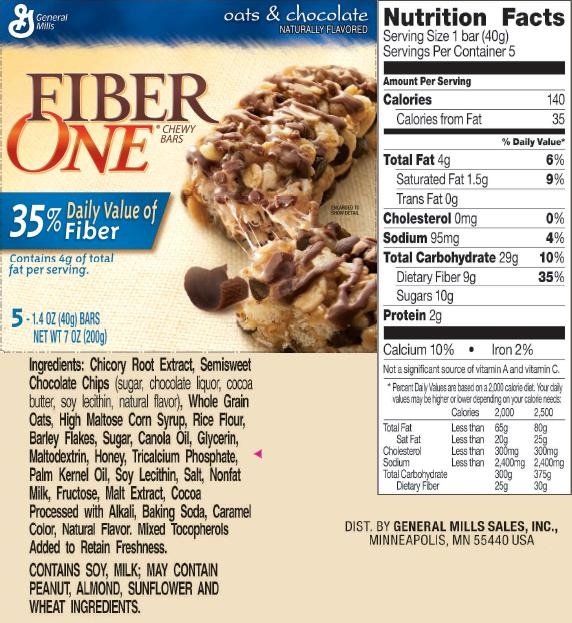 I was recently helping a client learn how to interpret nutrition and ingredients labels of food products.  He clearly wasn't thrilled at the prospect of spending the extra time to read labels.
It does take time.  But, you don't have to do it for everything.  It's particularly important to get a feeling for products that might have a laundry list of ingredients.
It's also really important if something screams "healthy," "loaded with fiber,"  "reduced calorie,"  "contains a day's worth of nutrients," and a whole host of other "you've got to buy me because I'm great for your health" claims.
Does The Front Of The Box Tell You The Truth, The Whole Truth, And Nothing But The Truth?
There just might be a kernel of truth surrounded by a great big blob of calories, sugar, chemicals and other stuff.
My client pulled out an Oats and Chocolate Fiber One Chewy Bar that his wife had bought for him.   She thought that with140 calories per bar and a label emblazoned with "35% daily value of fiber," it must be a good snack.
The Facts
According to the nutrition label, each bar has 140 calories, 4 grams of fat (1.5 grams are saturated fat), no cholesterol, 95mg of sodium, 29 grams of total carbohydrates (9 grams of which are dietary fiber and 10 grams are sugars), and 2 grams of protein.
The calorie count isn't bad, there isn't too much sodium, there are 9 grams of fiber, but there are also 1.5 grams of saturated fat and only 2 grams of protein.
The ingredients label:  chicory root extract, semisweet chocolate chips (sugar, chocolate liquor, cocoa butter, soy lecithin, natural flavor), whole grain oats, high maltose corn syrup, rice flour, barley flakes, sugar, canola oil, glycerin, maltodextrin, honey, tricalcium phosphate, palm kernel oil, soy lecithin, salt, nonfat milk, fructose, malt extract, cocoa processed with alkali, baking soda, caramel color, natural flavor, mixed tocopherols added to retain freshness.
Hmmm:  It seems that eight ingredients are sugars or forms of sugar:   # 2 (semisweet chocolate chips), 4 (high maltose corn syrup, 7 (sugar), 9 (glycerin), 10 (maltodextrin), 11 (honey), 17 (fructose), 18 (malt extract).
Not only are there a whole lot of ingredients for a 140 calorie bar, there sure is a whole lot of sugar.  Nine grams of fiber may be 35% of the daily recommended amount of fiber, but this bar is filled with sugar – 8 of its ingredients are sugar and this measly140 calories is using up a full 10% of the recommended daily value of sugar for a 2000 calorie diet.
What Do You Think?
The 35% of your daily fiber label on the front of the package is true – BUT – with this much sugar, 1.5 grams of saturated fat and only 2 grams of protein, is this a healthy food?