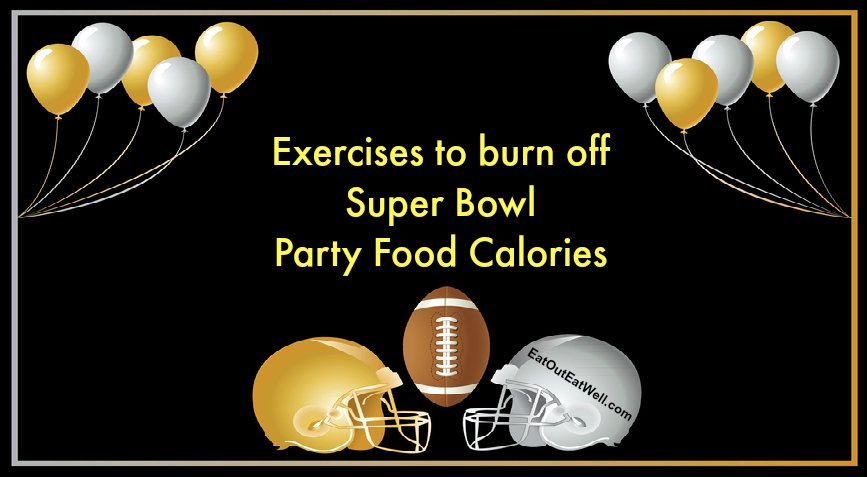 Check out these amusing (and possibly alarming) stats on how much and what kind of exercise you need to do to burn off some common Super Bowl food. Get ready to move around and act ridiculous for a lot of minutes! (Thanks to the Diet Detective for compiling these.)
The numbers are just estimates – there's always a wide variety of calories in foods depending on who makes them and who dishes them out. And, people come in all different sizes, shapes, and metabolisms meaning that everyone burns off calories at a different rate.
Take heart – it's just one day, so enjoy your favorite foods. You can compensate for the extra calories by adjusting the amount you eat the big day and the days before and after, mixing in some wise choices with the splurges, and increasing your exercise.
Downing six bottles of Budweiser means you'd have to do "The Wave" 4,280 times. Make sure not to drive.
Four swigs of Bud Light (36 calories) means you'd need to play minutes of professional football.
Eat a 12-inch Italian sub you'll have to walk the length of the Brooklyn Bridge more than 14 times (or 16.2 miles).
Six large Chili's Fajita beef classic nachos means running 242.5 football fields at 5mph. Six nachos is about half an order.
One giant street or stadium pretzel clocks in at about 455 calories. You'd have to spend 111 minutes acting like a sidelines goofball.
Four Tostitos Scoops! Tortilla chips with guacamole means 122 end zone touchdown dances. Each chip is about 11 calories and each scoop of guacamole is 25 calories – maybe more. One KFC extra crispy drumstick and an extra crispy chicken breast means 203 end zone touchdown dances. That could lead to some very sore quads.
Five pigs in blankets (67.5 calories each) means taking over the job of a stadium vendor and selling food for 36 minutes.
One 16-ounce bowl of beef and bean chili (about 550 calories) with a few tablespoons of sour cream and shredded cheese (another 150 calories) means 73 minutes of cheerleading.
Three slices of Pizza Hut Pepperoni Lover's Pizza Works (440 calories a slice) means you'd have to clean the post-game stadium for 322 minutes – that's more than 5 hours of work.
If you have 10 sliders with cheese (about 170 calories per slider) you'd have to perform with the marching band for 363 minutes.
If you want cheese sticks, four of them from Papa John's dipped in their garlic dipping sauce with cheese (370 calories for 4 sticks and 150 calories for the dipping sauce) means you'd have to paint the faces of 23 rabid fans.
One piece of crunchy cheese flavored Cheetos (7.14 calories) is equal to two minutes of waving a foam hand, chanting and pointing.
One Ritz cracker (16 calories) piled high with Cheese Whiz (45 calories a tablespoon) requires 21 minutes of preping, cooking, serving, and after Super Bowl clean-up.
One Doritos chip (12.75 calories) means that during half time you'd have to dance the entire 3.54 minutes of Bruno Mars' "Locked Out of Heaven." Imagine if you ate your way through the entire bag! Eating ten Lay's classic potato chips with Kraft French onion dip means you'd have to dance to Madonna for 134 minutes.
Then there's the wings. Fifteen Pizza Hut Buffalo Burnin' Hot Crispy Bone-in Wings with ranch dressing (100 calories per wing and 220 calories for 1.5 ounces of ranch dressing) means you'd have to do the wave 9,461 times.       The upside: after that your arms would hurt so much you wouldn't be able to pick up any more food!
Enjoy the food. Enjoy the game.