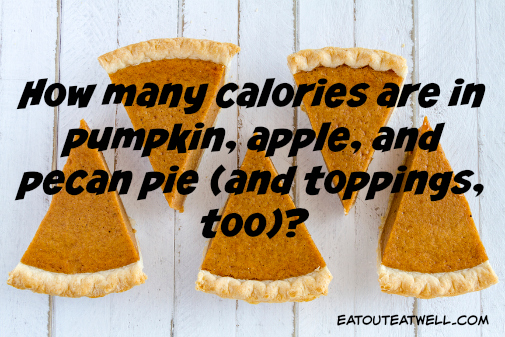 Thanksgiving Day. You've finished the hors d'oeuvres, the turkey, the stuffing, the green bean casserole, and the marshmallow-topped, buttery, and creamy varieties of potatoes. You've nibbled your way through the football game. Now it's time for dessert – there's always room for dessert — even though you feel you might burst.
What's more traditional than a choice of pumpkin, apple, and pecan pie to close out the Thanksgiving feast (before the leftover frenzy begins)?
There can be a big variation in the calories in the three types of pies. Of course, every recipe is different and home baked pie might just have a few added extras – but here are the average calories – and nutritional stats — in apple, pumpkin, and pecan pie (and the toppings) just in case you want to compare.
Apple Pie, I piece (1/8 of a 9 inch pie): 411 calories, 19g fat, 58g carbs, 4g protein
Pumpkin Pie, 1 piece (1/8 of a 9 inch pie): 316 calories, 14gfat, 41g carbs, 7g protein
Pecan Pie, 1 piece (1/8 of a 9 inch pie): 503 calories, 27g fat, 64g carbs, 6g protein
Pie Crust, 1 piece (1/8 of a 9 inch pie): 113calories, 7g fat, 10g carbs,1g protein
Vanilla Ice Cream, ½ cup: 145 calories, 8g fat,17g carbs, 3g protein
Whipped Cream (Pressurized), 1 tablespoon: 8 calories, 0.67g fat, 0.37g carbs, 0.10g protein
Whipped Heavy Cream (Sweetened), 1 ounce: 99 calories, 9.87g fat, 2.42g carbs, 0.55g fat