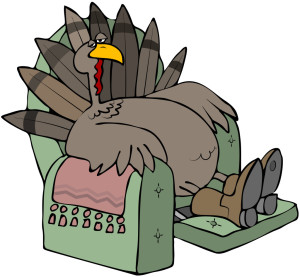 What was on the menu for the 50 English colonists and 90 Wampanoag American Indian men at the first Thanksgiving dinner on record (the first official Thanksgiving didn't happen until two centuries later)? Since it was harvest time in October 1621 in the Plimoth (Plymouth) Colony, in what is now Massachusetts, for the celebration:
the Wampanoag killed five deer
the colonists shot wild fowl — maybe some geese, ducks, or turkeys
some form of Indian corn was served and probably some squash, carrots, and peas
the feast was likely supplemented with fish, lobster, clams, nuts, wheat flour, and pumpkin.
Calories In Today's Thanksgiving And Hanukkah Foods
Most extra holiday calories don't come from the "day of" holiday meal but from unrelenting nibbling over the holiday season – and the nibbling isn't on the same type of food served at the first Thanksgiving dinner.
Guessing at calories can really fool you — being informed can help you to make good choices, food swaps, and trades. A "know before you go" strategy is a big help for making well thought out choices – which will leave room for some of your favorite holiday treats.
Here's a sampling of the calories in some traditional Thanksgiving and Hanukkah foods. The calories are for an average serving and are estimates.  Recipes all vary, these are ballpark numbers.
Appetizers:
Mixed nuts, 1oz:  170 calories
Candied pecans, 1oz: 139 calories
Cheese ball, 1oz: 110 calories
Selection of raw vegetables, 8 ounces:  75 calories
Sour cream and onion dip, 2 tablespoons: 60 calories
Deviled egg, ½ of an egg: 59 calories
Stuffed mushrooms, 6 small:  386 calories
Shrimp with cocktail sauce, 3 shrimp:  30 calories
Jell-O mold salad, ½ cup: 103 calories
Pigs in blankets, one homemade: 46 calories
Triscuit, 6 crackers:  120 calories
Main Course:
Turkey, 3.5 ounce serving (about the size and thickness of a new deck of cards):
Breast with skin: 194 calories
Breast without skin:  161 calories
Wing with skin: 238 calories
Leg with skin:  213 calories
Dark meat with skin:  232 calories
Dark meat without skin:  192 calories
Skin only:  482 calories; 44g fat
Smithfield ham, center slice, 4 ounces:  180 calories
Prime Rib roast:  8oz:  450 calories
Roasted Brussels sprouts with olive oil, 10 half sprouts:  80 calories
Dinner roll, 1 small: 87
Butter, 1 pat: 36
Cheesy corn bread, 2″ X 2″: 96
Turkey, white meat, 4 ounces: 180
Turkey, dark meat, 4 ounces: 323
Turkey gravy, 1/4 cup: 50
Stuffing, 1/2 cup: 190
Mashed potatoes, 1 cup: 190
Candied Yams, 1/2 cup:  210
Sweet potato casserole, 3/4 cup: 624
Honey glazed carrots, 1/2 cup: 45
Green beans almandine, 1/2 cup: 220
Green bean casserole, 1/2 cup: 75
Peas and pearl onions, 1/2 cup: 40
Jellied Cranberry Sauce, 1/4 cup: 110
Cranberry relish, 1/2 cup: 76
Dessert:

Pumpkin pie, 1/8 of a 9″ pie: 316
Apple pie, 1/8 of a 9″ pie: 411
Pecan pie, 1/8 of a 9″ pie: 503
Vanilla ice cream, 1/2 cup: 145
Chocolate cream pie, 1 large slice: 535
Baked apple, 1 apple: 182
Tea, brewed, 8 ounces: 2
Coffee, black: 10 ounces: 5
Coffee with cream and sugar, 10 ounces: 120
Coffee with Baileys Irish Cream and sugar, 10 ounces: 186
Calories In Typical Hanukkah Foods
Applesauce, sweetened, ½ cup:  95
Applesauce (unsweetened), ½ cup:  50
Fried potato latke, 2oz:  200
Fried, cheese-filled blintz, 1 medium:  340
Baked jelly-filled sufganiyot, 2 inches:  115
Fried jelly-filled sufganiyot, 2 inches:  300
Almond Mandelbrot, ¼ inch slice:  45
Rugelach, 1 cookie:  100