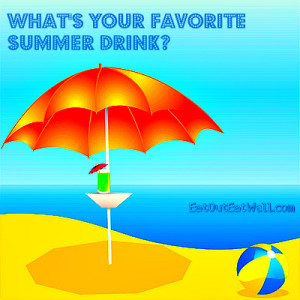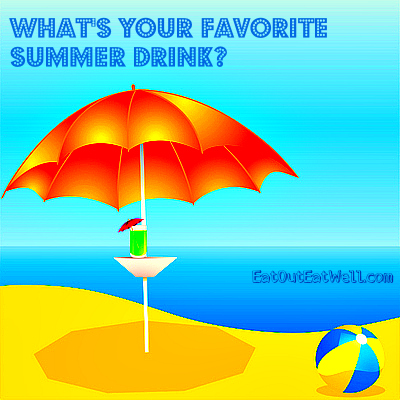 It's summer.  It's hot.  You're thirsty.  You want some shade and something cool – or maybe ice cold – to drink.
Check Out The Calories
A lot of those cool, refreshing drinks come with a hefty dose of calories. You might be surprised at the number of calories in a drink you've been having for years.
Do a little research, figure out your best choice, and then make that your drink of choice.  Can you be satisfied with a bottle of beer that has around 100 calories rather than another brand that has around 300 – or water with a hint of flavor instead of a sports drink?
Water and Sports Drinks
Gatorade:  12 oz, 80 calories
SoBe Lifewater:  20 oz, 90 calories
Glaceau Smart Water:  33.8 oz, 0 calories
Vitamin Water:  20 oz, 125 calories
Vitamin Water 10:  20 oz, 25 calories
Perrier Citron Lemon Lime (22 oz bottle):  0 calories
Vitamin Water Focus Kiwi-Strawberry (20 oz bottle):  125 calories, 32.5g sugars
Hint Blackberry (16 oz bottle):  0 calories
Gatorade G Orange (12 oz bottle):  80 calories, 21g sugars
Water (as much as you want):  0 calories
Iced Coffee and Tea Drinks
Dunkin' Donuts Vanilla Bean Coolatta:  16 oz, 430 calories
Dunkin' Donuts Sweet Tea:  16 oz, 120 calories
Starbuck's Coffee Frappuccino:  16 0z (grande), 240 calories
Starbuck's Coffee Frappuccino, light:  16 oz grande), 110 calories
Tazo Unsweetened Shaken Iced Passion Tea:  0 calories
Iced Brewed Coffee with classic syrup:  12 oz (tall), 60 calories
Soda and Non-Carbonated Drinks
Mountain Dew:  one 20 oz bottle, 290 calories
Coke Classic:  one 20 oz bottle, 233 calories
Diet coke:  one 20 oz bottle, 0 calories
Snapple Orangeade (16 oz):  200 calories, 52g sugar
San Pelligrino Limonata (11.15 fl oz can):  141 calories, 32g sugars
Can of Coke (12 oz):  140 calories, 39g sugars
Bottle of 7Up (12 oz):  150 calories, 38g sugars
Root beer float (large, 32 oz):  640 calories, 10g fat
Beer (12 oz bottle)
Sierra Nevada Bigfoot Ale: 330 calories
Samuel Adams Boston Lager: 180 calories
Guinness Extra Stout: 176 calories
Pete's Wicked Ale: 174 calories
Harpoon IPA: 170 calories
Heineken: 166 calories
Killian's Irish Red: 163 calories
Long Trail: 163 calories
Molson Ice: 160 calories
Samuel Adams Brown Ale:  160 calories
Budweiser:  144 calories
Corona Light: 105 calories
Coors Light: 102 calories
Heineken Light: 99 calories
Budweiser Select: 99 calories
Miller Light: 96 calories
Amstel Light: 95 calories
Anheuser Busch Natural Light: 95 calories
Michelob Ultra: 95 calories
Miller MGD 64:  64 calories
Beck's Premier Light: 64 calories
Wine
Red Wine:  5 oz, 129 calories
White Wine:  5 oz, 120 calories
Sangria:  8 oz, 176 calories
Alcoholic Drinks
Mojito:  7 oz, 172 calories
Frozen Magarita: 4 oz, 180 calories (the average margarita glass holds 12 oz, 540 calories)
Mimosa:  137 calories
Gin and Tonic:  175 calories