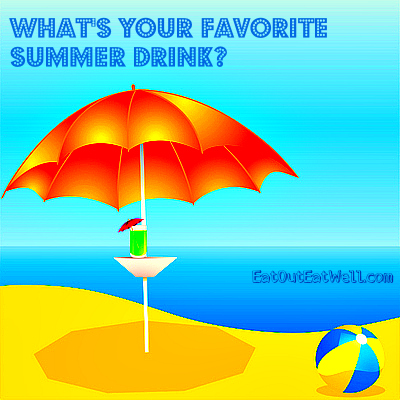 It's hot.  You're thirsty.  You want something cool – or maybe ice cold – to drink.
Check Out The Calories
A lot of cool, refreshing drinks come with a hefty dose of calories. You might be surprised how many are in a drink you've been having for years.
According to CSPI (Center for Science in the Public Interest), carbonated soft drinks are the single biggest source of calories in the American diet.  It's easy to forget about the calories in sugared sports drinks, sweetened ice teas, juices, and alcoholic beverages.
Alcohol isn't a caloric bargain – it has 7 calories per gram (protein and carbs have 4 calories per gram and fat has 9 calories per gram). Add sweetened juices, syrups, or soda to your alcohol, and you could be drinking a significant portion of your suggested daily calorie allowance.
It helps to do some research to figure out what's your best choice to grab from the deli, the food truck, the coffee shop, or at the bar.
Can you be satisfied with a bottle of beer that has around 100 calories rather than another brand that has around 300 – or water with a hint of flavor instead of a sports drink?
To help you with your choices, here are the calories in some summer favorites:
Water and Sports Drinks
Gatorade, 12 ounces: 80 calories
Gatorade G Orange, 12 ounce bottle:  80 calories
Gatorade G2 Perform Low Calorie Orange, 8 ounces: 20 calories
SoBe Lifewater, 20 ounces: 90 calories
Sobe Lifewater 0 calories Black & Blue Berry, 8 ounces: 0 calories
Glaceau Smart Water, 33.8 ounces: 0 calories
Vitamin Water, 20 ounces: 125 calories
Vitamin Water 10, 20 ounces: 25 calories
Perrier Citron Lemon Lime, 22 ounce bottle:  0 calories
Vitamin Water Focus Kiwi-Strawberry, 20 ounce bottle:  125 calories
Hint Blackberry, 16 ounce bottle:  0 calories
Powerade, Grape, 8 ounces: 50 calories
Propel Kiwi-Strawberry, 8 ounces: 10 calories
Water (as much as you want):  0 calories
Iced Coffee and Tea Drinks
Dunkin' Donuts Vanilla Bean Coolatta, 16 ounces: 430 calories
Dunkin' Donuts Sweet Tea, 16 ounces: 120 calories
Starbuck's Coffee Frappuccino, 16 ounces (grande): 240 calories
Starbuck's Coffee Frappuccino light, 16 ounces grande: 110 calories
Tazo Unsweetened Shaken Iced Passion Tea:  0 calories
Iced Brewed Coffee with classic syrup, 12 ounces (tall): 60 calories
Red Bull Energy Drink, 8.4 ounces, 110 calories
Soda and Non-Carbonated Drinks
Mountain Dew, 20 ounce bottle: 290 calories
Coke Classic, 20 ounce bottle: 233 calories
Diet coke, 20 ounce bottle: 0 calories
Snapple Orangeade, 16 ounces:  200 calories
San Pelligrino Limonata, 11.15 ounce can:  141 calories
Can of Coke, 12 ounces:  140 calories
Bottle of 7Up, 12 ounces:  150 calories
Root beer float, large, 32 ounces:  640 calories
Beer (12 ounce bottle)
Sierra Nevada Bigfoot Ale: 330 calories
Samuel Adams Boston Lager: 180 calories
Guinness Extra Stout: 176 calories
Pete's Wicked Ale: 174 calories
Harpoon IPA: 170 calories
Heineken: 166 calories
Killian's Irish Red: 163 calories
Long Trail: 163 calories
Molson Ice: 160 calories
Samuel Adams Brown Ale:  160 calories
Budweiser:  144 calories
Corona Light: 105 calories
Coors Light: 102 calories
Heineken Light: 99 calories
Budweiser Select: 99 calories
Miller Light: 96 calories
Amstel Light: 95 calories
Anheuser Busch Natural Light: 95 calories
Michelob Ultra: 95 calories
Miller MGD 64:  64 calories
Beck's Premier Light: 64 calories
Wine
Red Wine, 5 ounces: 129 calories
White Wine, 5 ounces: 120 calories
Sangria, 8 ounces: 176 calories
Alcoholic Drinks
Mojito, 7 ounces: 172 calories
Frozen Magarita, 4 ounces: 180 calories (the average margarita glass holds 12 ounces, 540 calories)
Mimosa:  137 calories
Gin and Tonic:  175 calories