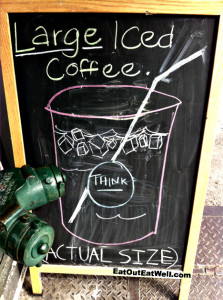 When the weather heats up, the coffee drinks tend to cool down.  Unfortunately, some iced and frozen coffee drinks – whether they're from a coffee shop or from a can — can really bump up your calories and fat grams.
Calories in Some Iced And Frozen Coffee Drinks
Note: all info (with the exception of Burger King) is for a 16 ounce cup.
Starbucks Mocha Frappuccino with whipped cream, 16 ounces (grande): 400 calories, 15 g fat (9 g saturated), 64g carbohydrates.
Starbucks Mocha Light Frappuccino with nonfat milk, 16 ounces (grande): 130 calories, 0.5g fat, (0 g saturated), 28g carbohydrates.
Iced Caffe Latte with nonfat milk, 16 ounces (grande):  90 calories, 0g fat, 13g carbohydrates.
Dunkin' Donuts Coffee Coolata made with whole milk, 16 ounces (small):  240 calories, 4 g fat (2.5 g saturated), 50g carbohydrates
Dunkin' Donuts Vanilla Bean Coolatta, 16 ounces (small): 420 calories, 6g fat (3.5g saturated), 92g carbohydrates
Dunkin' Donuts Iced Caramel Mocha Latte with milk, (large):  450 calories, 12g fat (7g saturated), 73g carbohydrates
Dunkin' Donuts Iced Latte made with skim milk, 16 ounces (small):  80 calories, 0g fat, 13g carbohydrates
Baskin Robbins Cappuccino Blast Mocha, 16ounces (small):  400 calories, 13g fat (9g saturated), 65g carbohydrates
McDonald's McCafé Iced Caramel Mocha, 16 ounces (medium) made with whole milk and whipped cream:  300 calories, 14g fat (8g saturated), 36g carbohydrates
Burger King: Iced Seattle's Best Coffee Mocha, 22 ounces (medium):  260 calories, 3.5g fat (2.5g saturated), 54g carbohydrates
Calorie Savers:
Swap full fat or 2% milk for 1% or skim.
Watch the sugar:  ask for one pump instead of two or sugar free syrup, add non-calorie sweetener instead of sugar, or don't sweeten at all.
Change the size of the drink that you order:  instead of a venti or an extra large, order a grande or large – or drop down to a tall, medium, or even a small-sized drink.
If you have a two a day (or more) habit – like a coolata in the morning and a frappuccino in the afternoon – substitute a plain coffee or iced tea (easy on the milk and sugar), or even a latte with nonfat milk for one of those choices.
Order plain iced coffee or even an iced Americano (almost no calories for 16 ounces) and doctor it with non-caloric sweetener and skim milk.  You'd even come out ahead if you use controlled amounts of sugar and a bit of half and half. Or have an iced brewed coffee with classic syrup:  a 12 ounce cup has 60 calories.