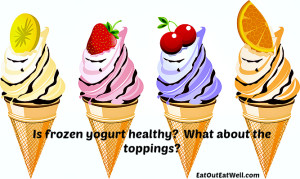 Is frozen yogurt actually healthy or are you being bamboozled by the name?
What's In It?
Milk and milk by-products are the main ingredients in frozen yogurt.
Frozen yogurt companies have their own recipes, but most common frozen yogurts contain yogurt cultures, sweetener, corn syrup, milk solids, gelatin, flavoring, and coloring.
Sugar makes up 15-17% of frozen yogurt and adds flavor, body, and thickness. Frozen yogurt, which isn't regulated by the Food and Drug Administration (but is by some states), might or might not contain live bacterial cultures.
Frozen yogurt is lower in fat than most ice creams because it's made with milk instead of cream. Most of the nonfat "original" or "plain" flavors are usually the lowest in calories at about 30-35 calories per ounce with about 20g of sugar.
It comes in a multitude of flavors and can be bought in cartons, as frozen bars or cups, or soft-serve. The recipes and quality of ingredients used by different brands create products with varying levels of sweet/tart, fat content, consistency, and flavor.
Some Frozen Yogurt History
Frozen yogurt was invented in Massachusetts in 1970 when a Hood dairy employee put regular yogurt through a soft-serve ice cream machine. The first "frogurt" cone was served by a Harvard Square store on February 3, 1971.
During the health craze of the '80s frozen yogurt went mainstream and then sort of fizzled. Its popularity rebounded big-time with self-serve stores that allow customers to mix and match flavors, pick from dozens of toppings, and pay by weight.
Self-serve yogurt shops also allow customers to control their portion size, subsequent price, and flavors and toppings.
Frozen yogurt continues to wear a healthy food "halo" but doesn't always warrant one.  Some varieties are "healthier" than others — depending on the company's recipe and the quality and quantity of ingredients and added toppings.
Calorie Tips
Despite variation in recipes, frozen yogurts are fairly comparable when calories are compared. For instance, a half cup serving of Pinkberry has 116 calories, 0g fat and 20g of sugar; TCBY's 98% fat free vanilla has 120 calories, 2g fat, and 17g of sugar; and Ben  & Jerry's vanilla frozen yogurt has 130 calories, 1.5g fat, and 16g of sugar. Tip: DO reverse the order of your cup.
Put the self-serve yogurt on top, not under, layered toppings. Make space-filling low calorie fruit like berries or fresh pineapple your first layer. Then add things with crunch and volume, like cereal.  Follow with the yogurt, then perhaps a teaspoon of candy crunch on top.  Starting with yogurt often means putting a lot of yogurt in the cup followed by a lot of toppings. Layering low calorie volume food on the bottom can save you a lot of calories.
When you start with a smaller cup rather than a large one, you're already ahead of the game.  Despite the fact that you swear you won't fill up a large cup, you almost always do.
Try not to mix flavors.  Swirling a couple sounds like fun, but taste buds are funny.  When you pick just one flavor and topping your taste buds are happy and you probably end up feeling more satisfied than if you have a variety of flavors.
Calories in Frozen Yogurt
One cup of low fat frozen yogurt runs about 210 calories. More specifically, for a one cup serving of different varieties of generic frozen yogurt:
Frozen yogurt:  Calories: 214; Fat: 2.94g; Carbs: 39.24g; Protein: 9.40g
Nonfat frozen yogurt:  Calories: 164; Fat: 0.65g; Carbs: 34.84g; Protein: 5.96g
Low fat frozen yogurt:  Calories: 214; Fat: 2.94g; Carbs: 39.24g; Protein: 9.40g
Chocolate frozen yogurt (soft serve):  Calories: 230 | Fat: 8.64 | Carbs: 35.86g; Protein: 5.76g
Vanilla frozen yogurt (soft serve):  Calories: 234; Fat: 8.06g; Carbs: 34.84g; Protein: 5.76g
Frozen yogurt (non-chocolate flavors):  Calories: 210; Fat: 2.70g; Carbs: 38.24g; Protein: 9.14g
Chocolate frozen yogurt (not soft serve):  Calories: 226; Fat: 3.90g; Carbs: 43.22g;Protein: 10.48g
Frozen flavored yogurt (non-chocolate, not self serve):  Calories: 221; Fat: 6.26g; Carbs: 37.58g; Protein: 5.22g
Nonfat chocolate frozen yogurt: Calories: 172; Fat: 1.32g; Carbs: 35.19g; Protein: 8.95g
Calories In Frozen Yogurt Toppings
It's easy to convince yourself that you're really doing well (and you might be) by eating frozen yogurt instead of ice cream. But, some toppings can turn frozen yogurt into a caloric nightmare – especially  when you keep piling them on.
Here are the calorie counts are for one ounce of various toppings:
Fruit (fresh and not):
Strawberries: 9 calories
Blueberries:  16 calories
Blackberries:  12 calories
Rasberries:  15 calories
Pineapple:  17 calories
Mango:  17 calories
Grated sweetened coconut:  131 calories
Nuts:
Slivered almonds:  170 calories
Chopped peanuts:  166 calories
Chopped walnuts:  184 calories
Cereals:
Cap'n Crunch:  114 calories
Cinnamon Toast Crunch:  123 calories
Froot Loops:  97 calories
Granola: 138 calories
Cookies/Pretzels/Candy:
Oreo topping:  112 calories
Pretzels covered in chocolate swirl:  130 calories
Milk chocolate M&Ms:  146 calories (1/4 cup has 210 calories)
Gummi bears:  90 calories  (14 pieces have 120 calories)
Nestle crunch bar topping: 37 calories
Heath bar, crumbled:  170 calories
Chocolate sprinkles:  25 calories
Rainbow sprinkles:  30 calories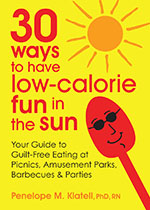 For more tips get 30 Ways to Have Low-Calorie Fun in the Sun: Your Guide to Guilt-Free Eating at Picnics, Amusement Parks, Barbecues & Parties  available in print and for e-readers from Amazon and Barnes & Noble.