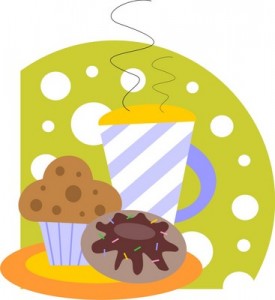 Morning coffee.  Coffee break.  Afternoon tea.  A nice cup after dinner. Many of us love – need – our coffee or tea.  Hot, cold, it doesn't always matter.
But, as you dump sugar and pour cream into mugs, thermoses, and those too hot to touch cardboard take-out containers, have you ever thought about how many calories you're actually adding to an otherwise very low calorie drink? Probably not. They're calories not usually measured and all to easy to forget.
What Do You Put Into Your Coffee Or Tea?
How much milk or half and half do you add to your coffee or tea? How much sugar? Bet you don't have a clue.  We all do a freehand pour.  Try measuring how much you pour and you might be really surprised.
Here's The Facts
Black brewed coffee and tea both have around two calories in an eight ounce cup. Not a bad deal.
Here's the potential trouble:
Heavy cream, 1tbs:  52 calories
Half-and-half, 1 tbs:  20 calories
Whole milk, 1 tbs:  9 calories
2% (low fat) milk; 1 tbs:  7 calories
Non-fat milk, 1tbs:  5 calories
Table sugar, 1tbs:  49 calories; 1tsp:  16 calories
Wow – It Can Add Up
Say you have three grande (Starbuck's) – or large (Dunkin Donuts) – size coffees a day.  Each is 20 ounces or 2.5 times the size of a traditional 8 ounce cup.
If you add 4 tablespoons of half and half and three teaspoons of sugar to each — which sounds like a lot but is very east to do — that's:
128 calories for what you add and around 5 calories for the coffee for a total of 133 calories for each grande/large cup of coffee
If you have three of those that's 399 calories a day
Do that every day for a year and that's the equivalent of 145,635 calories a year.
Of course not everyone will drink this amount of coffee with this amount of half and half and sugar.  But, it does make you stop and think about how many calories you really are putting into your coffee.
In Case You're Tempted By Something More
Here's the nutritional information for some other Starbuck's and Dunkin' Donuts drinks:
Starbuck's Hot Chocolate, grande (16 oz), 2% milk with whipped cream:  370 calories; 16g fat ; 50g carbs; 14g protein; 25mg caffeine.  Without whipped cream: 290 calories
This article is part of the 30 day series of blog posts called: 30 Easy Tips for Looser Pants and Excellent Energy.