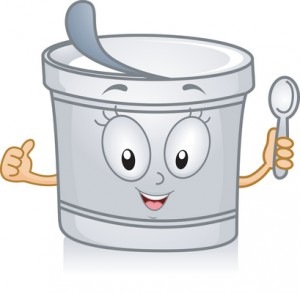 So who hasn't found themselves standing in the frozen fog shoving around frozen containers of frozen leftovers from last Thanksgiving looking for the container of Haagen-Dazs or Ben and Jerry's or whatever brand you've got lurking in there.
If you're a goner and there's no stopping the oncoming ice cream assault, here's a way to modify it – somewhat!
The Size Of the Container
The size of the container – or plate – or bowl – can often determine how much you ultimately eat.  If you stand there with spoon in hand and just attack the container, in the blink of an eye it's possible to polish off an entire pint or the better portion of a quart.
If there's no turning back from the ice cream, at least try to make a deal with yourself and scoop some into a bowl – and make it a smaller dessert bowl not a monster size cereal or soup bowl. Then you've practiced portion control and had your ice cream, too.  You actually might not hate yourself so much in the morning.