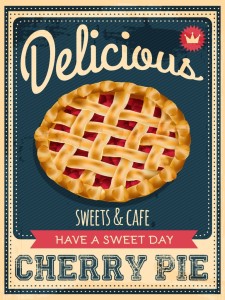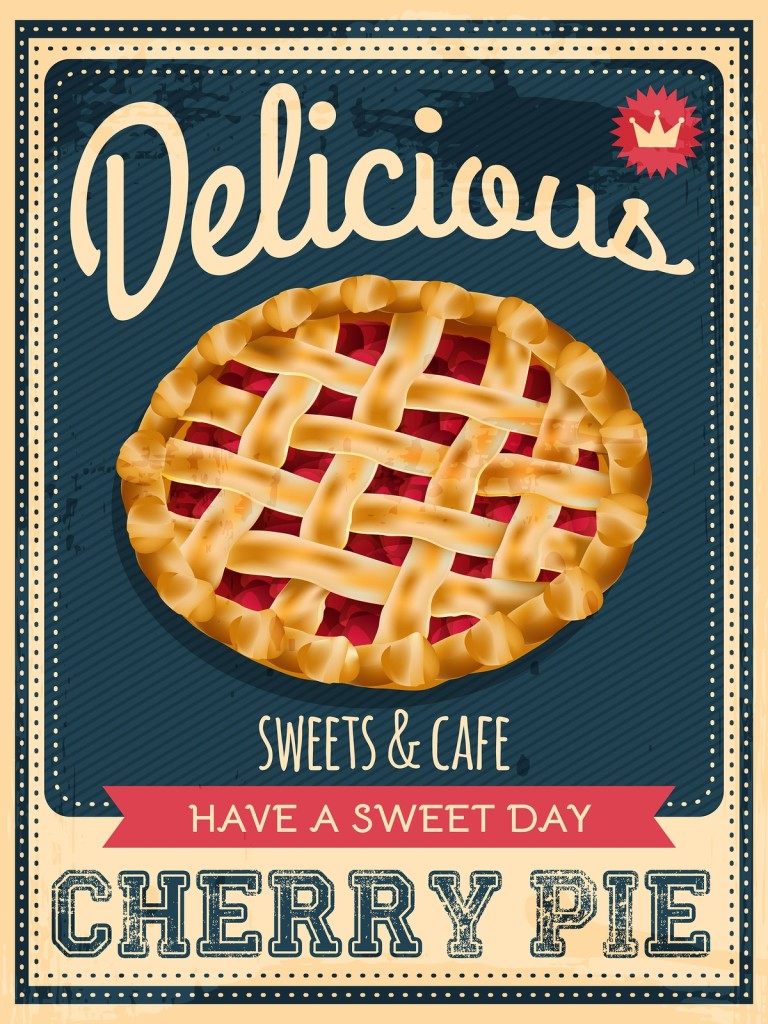 George Washington: "I cannot tell a lie, father, you know I cannot tell a lie! I did cut it [the cherry tree] with my little hatchet."
It's President's Day weekend in the US and in honor of George  Washington, cherry trees, cherries, and the pie you can make with cherries – why not take a look at pies. What a segue!
Pies are anytime food – they come sweet and savory – but for many of us, "pie" conjures up sweet filling piled on top of – or in — a crust.
Some Pie History
Pie shells were originally just containers used for baking, storage, and serving — the crust was often too hard to actually eat. The first pies were savory meat pies, called "coffins" or "coffyns," with tall, straight sides and sealed bottoms and lids. There were also open-crust pies, or "traps," which served as casseroles for meat and sauce.
Early forms of pies, or galettes (essentially rustic free-form pies), can loosely be traced back to circa 9500 BC Neolithic Egyptians.
The ancient Greeks, who are thought to have been the originators of pie pastry, made a flour-water paste they wrapped around meat to seal in the juices as it cooked. After they conquered Greece, the Romans brought home pie recipes.  From there, the idea and practicality of pie spread throughout Europe with different cultures creating pies that suited their customs and local food.
Pie Comes To The Colonies
In the 1600s, the Pilgrims brought English-style, meat-based pies to the colonies. Crusty pie tops helped to both preserve food and to keep fillings fresh and colonists cooked lots of pies, both sweet and savory, using local ingredients along with berries, fruit, cinnamon, pepper, and nutmeg.
As settlers moved westward, more pies with regional flavors and ingredients were developed using fruit, berries but vegetables and game discovered with the help of Indians. Pies were delicious and practical — they required less flour than bread and could be more easily and cheaply baked. Apple trees produced fruit that was easy to dry and store in barrels during the winter, and apple pie became a mainstay: "As American as apple pie."
What'll ya have?  A cuppa joe and a piece of pie.
Today, no matter where you get your pie: the bakery, the local diner, or straight from your oven, the sweet treat can carry a big caloric punch. There is a huge difference in calories (and nutrition) between different kinds of pie.
To help you "have your pie and eat it, too" shown below are the calories in different kinds of pie. If you want to save a few calories:
choose the type of pie that has fewer calories than another kind.
Be aware of the size of the slice – some are huge, some are slivers
How many crusts, one or two – there are a lot more calories in a two crust pie
How much od the piece are you eating? No one says you have to eat all of a gargantuan piece and no one says you have to eat all of the crust.
What's in the filling?  Some pies have way more calories than others. Recipes vary significantly – the average numbers shown below can give you an idea of good, better, and best pie choices — not in terms of flavor or the artistry of the baker, but for a general comparison of calories.  You're going to be surprised!.
Pie Crust Facts (1/8 of a pie)
 Tulip                    60   calories
Ginger snaps       60   calories
Graham cracker   100 calories
Ready-made        120 calories
Homemade          149 calories
Average Calories in Popular Pies
 Apple, commercially prepared, 1/8 of 9" pie:  296 calories
Apple, prepared from recipe, 1/8 of 9" pie:  411 calories
Banana cream, prepared from recipe, 1/8 of 9″ pie: 387 calories
Blueberry, commercially prepared, 1/8 of 9" pie:  290 calories
Blueberry, prepared from recipe, 1/8 of 9" pie: 360 calories
Cherry, commercially prepared, 1/8 of 9" pie:  325 calories
Cherry, prepared from recipe, 1/8 of 9" pie:  486 calories
Chocolate creme, commercially prepared, 1/6 of 8" pie:  344 calories
Coconut custard, commercially prepared, 1/6 of 8" pie:  270 calories
Lemon meringue, commercially prepared, 1/6 of 8" pie:  303 calories
Lemon meringue, prepared from recipe, 1/8 of 9" pie:  362 calories
Mince, prepared from recipe, 1/8 of 9" pie:  477 calories
Peach, 1/6 of 8" pie:  261 calories
Pecan, commercially prepared, 1/6 of 8" pie:  452 calories
Pecan, prepared from recipe, 1/8 of 9" pie:  503 calories
Pumpkin, commercially prepared, 1/6 of 8" pie:  229 calories
Pumpkin, prepared from recipe, 1/8 of 9" pie:  316
Vanilla cream, prepared from recipe, 1/8 of 9" pie:  350 calories