It's New Year's Eve.  If you have big plans, enjoy yourself.  If you're watching your weight, have a plan – you can still enjoy yourself and not feel deprived.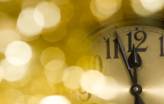 Devise an eating strategy before you go out and commit to carrying it out.  Then you'll have a much better chance at succeeding – and not hate yourself and curse the scale on the first day of the New Year.  Here are some ideas:
If you are going to a party with lots of hors d'oeuvres decide beforehand how many you will have.  Three varieties, one of each?  Two varieties, two of each?
Alternate your drink of choice – wine, champagne, liquor – with sparkling water.  Cuts down on the calories, helps with sobriety, and makes it easier for you to resist food temptations.  Hold that glass of sparkling water or diet soda in your hand – the only people who will know it's non-alcoholic is you and the bartender (who most likely could care less about what you are drinking).
If you're going to dinner decide if you're going to have dessert ahead of time.  Makes it easier to plan.  If you are going to indulge – even if it's the house specialty smothered in whipped cream, compensate by having a salad with dressing on the side as your appetizer.  Nix the bread.  Just balance your caloric intake the best you can.
If it's a pizza, wings, and beer affair think about ways to minimize your fat intake – pizza and wings (especially the dip) are loaded.  Cut the pizza slice in half – leave the other half in the box.  When you go back for seconds, retrieve the other half slice. You'll end up eating just one slice but you'll feel like you're having two.  If you can, take off some of the cheese – the main source of fat.  Some people use paper towels or napkins to absorb some of the extra fat floating on the surface of a slice.  Up to you – but it sure does cut down on calories – mopping up the equivalent of two teaspoons of oil knocks off just under 100 calories.
Do you have any tricks or tips you would like to share?