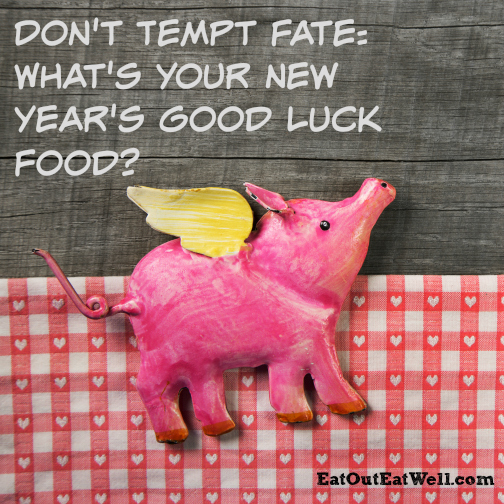 What's your New Year's tradition? Do you eat fish, beans, cakes with coins, grapes, or pickled herring?
Around the world food and symbolism play important roles in New Year's celebrations not just to celebrate but often to bring luck, fortune, and plenty (both money and food), and health.
What Not To Eat (Hint: Don't Look Or Move Back)
Although different cultures have foods that are supposed to be eaten at the stroke of midnight or sometime on January 1st, there are also foods not to eat. Things that move or scratch backwards — like lobsters, chickens, and turkeys — are to be avoided because they symbolize moving backward instead of progressing forward. To avoid any looking back at past struggles or setbacks, or only things that move forward should be eaten.
Want a full pantry? Some cultures leave a little food on the table or on the plate to guarantee – or at least to hedge your bet – that you'll have a well-stocked kitchen during the coming year.
Why Tempt Fate – Here Are Some Lucky Foods To Consider
There are many New Year's foods and traditions — far too numerous to list. Wouldn't you want to consider piling some luck on your plate on January 1st? A little extra insurance can't hurt!
Some common types of good luck foods:
Round foods shaped like coins, such as beans, black eyed peas, and legumes, symbolize financial prosperity, as do greens such as cabbage, collard greens, and kale, which resemble paper money. Golden colored foods like corn bread also symbolize financial rewards in the New Year. Examples of round good luck foods are: lentils in Italy and Brazil, pancakes in Germany, round fruit in the Philippines, and black-eyed peas in the Southern US. Green leafy vegetables that symbolize paper money are collard greens in the Southern US and kale in Denmark.
Pork symbolizes prosperity, abundance, plenty of food, and the fat of the land (think pork barrel legislation). The pig, which symbolizes plentiful food in the New Year, is considered an animal of progress because it moves forward as it roots around for food. Pork products appear as ham, sausage, ham hocks, pork ribs, and even pig's knuckles. Years ago, if your family had a pig you were doing well! Some examples of good luck pork products are roast suckling pig with a four leaf clover in its mouth in Hungary, pork sausage with lentils in Italy, and pork with sauerkraut in Germany.
In some countries, having food on your table and/or plates at the stroke of midnight is a sign that you'll have food throughout the year.
Seafood, with the exception of the backward swimming lobster, symbolizes abundance and plenty and is a symbol of good luck. Fish also symbolize fertility because they produce multiple eggs at a time. It's important that a fish be served whole, with the head and tail intact, to symbolize a good beginning and a good end. Examples are herring and carp in Germany, pickled herring in Poland, boiled cod in
Denmark, dried salted cod in Italy, red snapper in Japan, and carp in
Vietnam.
Eating sweet food in order to have a sweet year is common in a number of countries. In Spain, Portugal, Mexico, Cuba,
Ecuador, and
Peru, 12 sweet grapes, one for each month of the year, are eaten at midnight in hope of having 12 sweet months. The order and sweetness of the grape is important – for instance, if the fifth grape is a bit sour, May might be a bit rocky. In some places the goal is to eat all of the grapes before the last stroke of midnight and some countries eat a 13th grape just for good measure. There seems to be an awful lot of hedging of bets all around the world.
Another symbol for good luck involves eating food that's in a ring shape – like doughnuts or ring shaped cakes. This represents coming full circle to successfully complete the year. Examples are Rosca de Reyes in Mexico and Olie Bollen (doughnuts) in the Netherlands.
Long noodles signify a long life. The Japanese use long Buckwheat Soba noodles – but you shouldn't cut or break them because that could shorten life.
Chinese New Year, an all East and Southeast Asia celebration, is known as "Spring Festival" in China, which begins on the first day of the first month in the traditional Chinese lunar calendar. It's filled with tradition and ritual and celebrated with lucky red envelopes filled with money, lion and dragon dances, drums, fireworks, firecrackers, and feasting on traditional sweet sticky rice cake and round savory dumplings that symbolize never-ending wealth.
Sweets are symbolic of a sweet year and/or good luck. Cakes and breads with coins or trinkets baked into them are common in many countries. Greeks have a round cake called Vasilopita – made with a coin baked inside — which is cut after midnight. Whoever gets the coin is lucky throughout the year. Jews use apples dipped in honey on the Jewish New Year, Norwegians use rice pudding with an almond inside, Koreans use sweet fruits, and Egyptians have candy for children.
Fill your plate with a serving of luck. As for resolutions — they're not quite as tasty as most (not all) food traditions, but they do have longevity — they date back 4000 years to the ancient Babylonians!
Happy and Healthy 2015!
Remember to eat well because you really are what you eat.