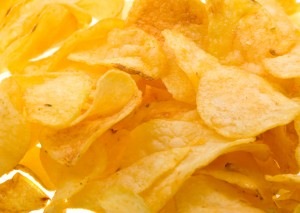 Saratoga Potato Chips
I have a soft spot for Saratoga Springs, New York, home of Skidmore College, my alma mater.  Saratoga is also known for  — to name a few things — the Battles of Saratoga (1777, a turning point in the Revolutionary War), its spa, Saratoga spring water (which I couldn't stand the first time I tasted it), and another of my favorite spots, the racetrack with its incredible wooden stands.
What I didn't know is that Saratoga is also credited as the birthplace of American potato chips.  Originally called Saratoga Chips, they are usually credited to George Crum, the Native- and African-American chef at Moon's Lake House in Saratoga Springs who first prepared them in 1853.
In the 1920s chips were handed out in wax-paper bags. In the 1930's they were packaged and became a commercial snack food.
We now call them plain old potato chips, Saratoga having vanished from the name.  There's another big difference, too.  To make classic Saratoga chips, the Browns, 1940 authors of "America Cooks," told you to slice potatoes "to fairylike thinness" and fry them in lard. A 1904 recipe from The Times called for frying them in olive oil, which gave the potatoes a nutty flavor, and, as we now know, was a lot healthier than many of today's commercially used oils – or the once used lard.
Modern Day Potato Chips
Modern day potato chips come in a multitude of flavors: vinegar and salt, sour cream and onion, cool ranch, and barbecue.  Some are ribbed or ruffled and some aren't, they are packaged in noisy foil bags, are plentifully salted, and sometimes are stamped out in identical sizes and stacked in a cardboard tube.  Don't you wonder what they use to make those flavors?
An eight ounce bag of chips has 1242 calories, 766 of them from fat.  It contains 85.1 grams of fat (24.9 grams of which are saturated, 1192 mg of sodium (slightly more than half of the daily recommendation), and 14.9 grams of protein.
Pringles come all nice and neat and layered in a tube.  But, what happened to just potatoes?  Here's Pringles' ingredient list:  dried potatoes, vegetable oil (contains one or more of the following: corn oil, cottonseed oil, and/or sunflower oil), wheat starch, maltodextrin, rice flour, salt and dextrose.
A one ounce serving size of Lay's classic potato chips is made from potatoes, sunflower and/or corn oil, and salt.  It has 150 calories, 10 grams of fat (1gram saturated), and 2 grams of protein.
Bottom Line:
Sometimes you gotta love the chips.  However, there are some good choices and some not so good choices.  Oven frying your own is probably the best choice – you get the vegetable lightly coated with olive oil and however much salt and herbs you prefer.
Some commercial brands now come oven baked, too.  If you are buying a bag of chips  look for the kind that is made from real potatoes rather than dried potatoes mixed with sugars, salt, and preservatives.
For home made oven fried potato chips, wash the potatoes well and slice them thinly, about 1/8-inch,  keeping the peel on. Brush both sides with olive oil (you can use a light coating of cooking spray if you are watching your calories) and arrange the slices on a baking sheet in a single layer without crowding. Sprinkle with salt and herbs, if desired. Bake in a preheated 375 degree oven until nicely browned and pretend you're in Saratoga.