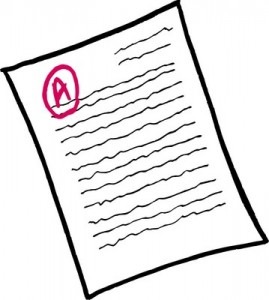 A  for Awesome, because that's how you'll feel.
Don't you hate it: you've been so much attention to what you eat and your healthy eating habits are really getting grooved.  You're starting to feel and look great, but, oh boy, you have to go to something big.  It could be a wedding, a dinner party, or dinner at a fabulous restaurant.
First thought: I'm going shopping for something great to wear.
Second thought: The food is going to be awesome.  Is this going to make me blow my careful eating and, then, forget it — it's all down hill from there.
The Dilemma
You want to enjoy yourself and be able to have some of the restaurant's "specialty of the house" or a bunch of hors d' oeuvres followed by a delicious piece of cake at your friend's wedding.
What To Do?
Prep like your final exam is tomorrow.
Remember cramming for finals?  Hit the books and collect some information.  Research the menu of the restaurant you will be going to or call your host or event planner to find out what will be served at your event.
Many restaurants have their menus online – or you can stop in for a preview.  If you nicely give your host, the caterer, or the event planner a solid reason for wanting to know the menu, you'll be surprised at how accommodating most can be.
After you've researched what can be ordered and/or what will be served, you can then come up with your plan.   If you want that fantastic dessert perhaps you decide to keep your hand out of the breadbasket.  Do you want to have wine with dinner?  Maybe forego a cocktail (or two) – and its calories – before dinner.  Want the very special hors d'oeuvre?   Maybe dessert gets jettisoned.
The point is:  You are in control and can choose what you want to do.  But planning is important.  Make up your mind what you're going to do ahead of time and commit to it.
A game time decision means that you're making decisions when too many enticements are already in front of you.  That's not easy to do.  So, do your research, come up with a plan, and stick to it.  Allow yourself something special – don't take that away.  But, maybe stick to one or two special treats, not an ongoing feast.  You'll feel fantastic, in control, and tremendously proud of yourself.  You'll have had something delicious -– and your new clothes will still look just as great.  Most importantly, those new healthy eating habits are still intact and have and will continue to serve you well.