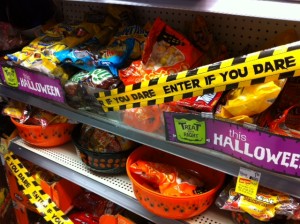 It might help a bit with Halloween candy mooching if you have some information about the calories in those seemingly innocent little mini bars of candy.  A lot of adults care — some don't — and most kids could care less about calories.
One night of candy overload isn't going to break the bank.  You won't gain ten pounds and neither will your child(ren).  You and they might feel lousy after so much sugar, your concentration may not be the greatest, and you might be sluggish and irritable.  But, your pants will still fit and your sunny personality will see the light of day – if the candy indulgences don't become a frequent occurrence.
A treat is only a treat if it happens once in a while.  If it's a common occurrence it far too frequently becomes an expectation or a habit.
Calories in Halloween candy (Source: fitsugar)
| | | | |
| --- | --- | --- | --- |
| 1 treat size (fun size) | Calories | Fat (g) | Sugar (g) |
| Snickers | 71 | 3.6 | 7.6 |
| Reese's Peanut Butter Cup | 88 | 5.2 | 8 |
| Reese's Caramel Cup | 100 | 5 | 11 |
| Reese's Nutrageous | 95 | 5.5 | 7.5 |
| Milky Way | 77 | 2.9 | 10.2 |
| Butterfinger | 85 | 3.5 | 8.5 |
| Almond Joy | 91 | 5.1 | 9.2 |
| Milk Duds | 40 | 2 | 6.3 |
| M&Ms | 90 | 4 | 11.5 |
| Peanut M&Ms | 93 | 4.7 | 9.1 |
| Nestle's Crunch | 51.3 | 2.7 | 5.6 |
| Peppermint Pattie | 47 | 1 | 8.6 |
| Kit Kat | 73 | 3.7 | .67 |
| Dots | 70 | 0 | 11 |
| Skittles | 80 | .8 | 15 |
| Jelly Belly Jellybeans | 35 | 0 | 7 |
| 3 Musketeers | 63.3 | 2 | 10 |
| Milky Way | 75 | 3 | 10 |
| Hershey's Bar | 66.7 | 4 | 7.7 |
| Take 5 | 105 | 5.5 | 9 |
| 100 Grand | 95 | 4 | 11 |
| Nerds | 50 | 0 | 12 |
| Whoppers | 100 | 4 | 13 |
| Mike & Ike | 50 | 0 | 9 |
| SweeTarts | 10 | 0 | 2.4 |