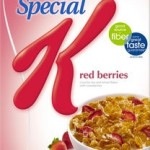 My husband loves his "red berry" cereal.  Not just any red berry cereal – but Special K Red Berries.  Plain old Special K, blueberry almond, or any other array of color and flavor just won't do.
Red Berry Facts
The ingredients in Special K Red Berries :
Rice, Whole grain wheat, Sugar, Wheat bran, Freeze-dried strawberries, High fructose corn syrup, Soluble wheat fiber, Salt, Malt Flavoring, Ascorbic acid (vitamin C), Reduced iron, Alpha tocopherol, Niacinamide, Pyridoxine hydrochloride (Vitamin B6), Thiamin hydrochloride (Vitamin B1), Riboflavin (Vitamin B2), Vitamin A palmitate, Folic acid, Vitamin B12
A one cup serving size has:
110 calories (150 calories with ½ cup of fat free milk)
27 grams Total carbohydrate
Good, Bad, Or Indifferent?
Over 50 years ago Kellogg produced Special K as an alternative to Corn Flakes.  It is often marketed as Kellogg's cereal for weight loss because it is made from rice and wheat.
110 calories isn't bad for a one cup serving of Red Berries.  Just remember that most of us eat more than one cup. At three grams of fiber (over 10% of the recommended daily value), the package can say:  "A good source of fiber."
By weight, most of the cereal is rice (the first ingredient listed).  Whole grain wheat is second. The added fiber comes from the wheat bran and the soluble wheat fiber.  Sugar is the third ingredient, freeze dried strawberries the fifth, and  high corn fructose corn syrup the sixth.  The two sugars and the berries add up to nine grams of sugar in each cup – the equivalent of a little more than two teaspoons of sugar.  The sodium accounts for 8% of the recommended daily amount.
A Good Breakfast Choice?
How does the breakfast of red berry cereal with fortified skim milk stack up?
It's all about choices. Eating nothing followed by black coffee and a bagel or pastry sometime during the morning ranks in the negative zone way below good. Having a breakfast that has some protein and fiber and not too much sugar gets the body and brain geared up for the day.
Even though there could be a superior breakfast choice, this is a lot better that the breakfast of a whole lot of nothingness that my husband ate when his only fuel was what was in the gas tank in the car followed by numerous cups of black coffee, no sugar, in his office.  My guess is that the coffee kept company with conference room bagels, snack room cake, and some snagged desktop candy.
In the ranking of good, better, and best – I'd have to give it a good minus.  Adding fresh fruit makes it a good choice.  A better choice would be mixing a cereal with more fiber and protein and less sugar with Special K Red Berries, topped with some fresh fruit.
SocialDieter Tip:
Look for breakfast cereals with:
Whole grains  like "whole wheat" or "wheat bran," not just "wheat."
At least 3 grams of protein per serving.
No less than a four-to-one total carbohydrate-to-sugar ratio. This means if the "total carbohydrate" line says 24 grams, the "sugars" should be 6 grams or less, indicating that most of the carbs come from the grain and fibers, not from added sugars.
Follow the "five and five" rule:  less than 5 grams of sugar and at least 5 grams of fiber.