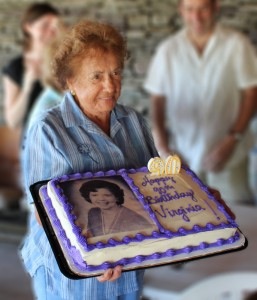 . . . And Enjoy Every Bit Of It
We celebrated my Mom's 90th birthday this past weekend.  Actually, she has three birthdays – the one on her birth certificate and driver's license (yes, she still drives), one on her baptismal certificate, and a third that doesn't appear on anything other than innumerable birthday cards. No explanation for this.
As you can see above, my Mom's name is Virginia.  This is notable because she is one of thirteen children – and the other 12 all have names like Mary, Helen, and John.  Why Virginia?  "I'm named after the undertaker's wife," she said.  Thanks, Mom.  Any other strange bits of trivia hanging around the family tree?
Mom wanted to celebrate her birthday at her family's annual reunion – with her six living siblings and lots of other family.  Okay, doesn't everyone drive 3 and ½ hours for lunch?  Off we went with a couple of surprise "picture" cakes hidden in the trunk of the car.
And a surprise it was.   She was delighted – and it showed.  And it was so worth the searching through boxes of pictures, picking up the cakes, and the drive.
Sometimes Celebrations Outweigh The Calories
We eat cake for lots of reasons.  It just may taste delicious.  Maybe it's your favorite food.  Or, maybe you avoid it like the plague because of calories, fat, sugar, and white flour.  All legitimate reasons if they're your reasons.
But, there are times when celebrations are important, really important – weddings, baptisms, engagements, holidays, and birthdays, to name a few.  Even funerals and memorial services are often followed by food — and cake — because food is a way of bringing together friends and family.
What's So Important About The Cake?
Special celebration cakes are designed, made, ordered, and eaten with love.  Sometimes they taste good, sometimes they don't.  Sometimes "diets" get in the way of the meaning of the cake. Sometimes the regimentation of an eating plan gets in the way of the reason for a celebration.
Sometimes cakes are just cakes – like the ones that sit in the multi-shelved dessert display at the diner.  Those are not celebration cakes.  But the lopsided one that your child makes for you on Mother's Day, or the multi-tiered one at your or your child's wedding, or the one for your Mom's 90th birthday are very special.
So have a small piece (or a big one if you want) – or eat only a couple of  forkfuls.   Or, if you're like my cousin, gleefully eat the corner piece (of a rectangular cake) because it has the most icing.
How would you feel if it's your birthday or wedding and you hand some of your special cake to a friend who says, "No thanks, I'm on a diet"?
Sometimes it's important to eat cake.