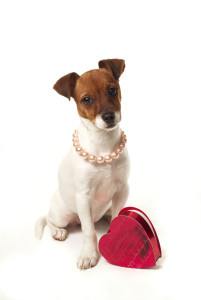 February 14th means red hearts, candy, flowers and gifts all in the name of St. Valentine. But who was Saint Valentine?
The Catholic Church recognizes at least three different martyred saints named Valentine.  All of the stories emphasize Valentine's sympathetic, heroic, and romantic appeal.
In one of them, a priest in third century Rome defied Emperor Claudius' decree outlawing marriage for young men and continued to perform secret marriages — for which he was put to death. Another story suggests that Valentine was killed for trying to help Christians escape harsh Roman prisons. In another legend, an imprisoned Valentine sent the first "valentine" message, a letter, to his jailor's daughter signing it "From your Valentine."
Valentine's Day
Some think Valentine's Day is celebrated in the middle of February to commemorate Valentine's death around 270 A.D.  Others think the Christian church decided to celebrate Valentine's feast day in the middle of February in an attempt to "Christianize" the pagan Lupercalia, a fertility festival, which was celebrated at the ides of February (the 15th).
At the end of the 5th century, Lupercalia was pronounced "un-Christian" by the Pope — who made February 14th St. Valentine's Day. The day became linked with love during the Middle Ages, in part because the French and English believed that February 14 was the beginning of birds' mating season.
But Why Candy – Especially Chocolate?
The idea of Valentine's Day as a celebration of romance had taken over most of the English-speaking world by the 1840s. The otherwise prudish Victorians liked the idea of celebrating with elaborate cards and gifts.
Around that time, Cadbury, the British chocolate manufacturer, had improved its chocolate making technique for "drinking chocolate." The process resulted in an excess amount of cocoa butter and Cadbury used it to produce more varieties of "eating chocolate," which they started selling in beautifully decorated boxes.
Cupid and Heart Shaped Boxes
It was a quick leap to putting images of roses and Cupid, the Ancient Roman god of love, on heart-shaped boxes for Valentine's Day. The boxes were so pretty that they were marketed for both the candy inside and to store mementos in after the chocolates had been eaten. The boxes became more and more elaborate until World War II when sugar was rationed and Valentine's Day celebrations were scaled down.
There is now no lack of sugar, chocolate, or candy dressed up for the holiday. In the US, during the week before Valentine's Day 448 million dollars are spent on candy, 58 million pounds of chocolate are purchased, and 36 million heart-shaped boxes are sold.