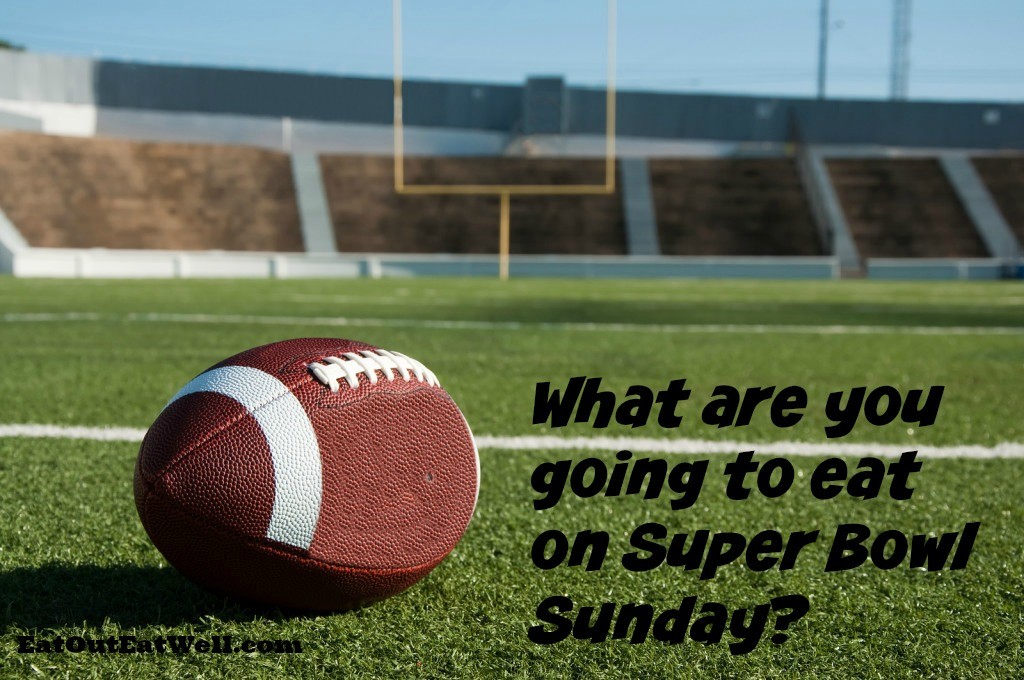 Even though the first Super Bowl only dates back to January 1967, Super Bowl Sunday certainly has the trappings of a holiday both in the US and in many expat communities. It's the most watched annual television program in the US and ranks second (Thanksgiving is first) as the day for most food consumption. Over 20 million Americans attend Super Bowl parties and half of all Americans say they would rather go to a Super Bowl party than to a New Year's Eve party.
Where there's football there also seems to be many opportunities to eat, often mindlessly. Think of all the hand to mouth munching on chips, dips, and wings; a swig or two or three; a cookie here and there.  And then there's the "real food" at halftime – or maybe there's pizza first followed by a selection of subs. By the end of the game do you have a clue about how much – or even what — you have popped into your mouth?
You might be surrounded by a smorgasbord of highly caloric, fatty, salty, and sweet foods, but there are still plenty of opportunities for eating deliciously well if you are a bit more mindful about your choices.
Super Bowl Food Facts
About one in twenty (9 million) Americans watch the game at a restaurant or a bar.
Americans double their average daily consumption of snacks on Super Bowl Sunday, downing more than 33 million pounds in one day.
The average Super Bowl watcher consumes 1,200 calories. Overall, potato chips are the favorite munchie and, in total, account for 27 billion calories and 1.8 billion fat grams — the same as 4 million pounds of fat or equal to the weight of 13,000 NFL offensive linemen at 300 pounds each.
Nearly one in eight (13%) Americans order takeout/delivery food for the Super Bowl. The most popular choices are pizza (58%), chicken wings (50%), and subs/sandwiches (20%). Almost 70% of Super Bowl watchers eat a slice (or two or three) during the game.
The amount of chicken wings eaten clocks in at 90 million pounds or 450 million individual wings. It would take 19 chicken breasts to get the same amount of fat that you usually get from a dozen Buffalo wings.
On Super Bowl Sunday we eat an estimated 14,500 tons of potato chips, 4000 tons of tortilla chips, and eight million pounds of avocados. Five ounces of nacho cheese Doritos is equal to around 700 calories. You'd have to run the length of 123 football fields to burn them off.  You'd have to eat 175 baby carrots or 700 celery sticks to get the same number of calories.
According to 7-eleven, sales of antacids increase by 20% on the day after Super Bowl.
Pizza restaurants love Super Bowl Sunday – it's their busiest day of the year, according to the National Restaurant Association. Papa John's, Pizza Hut, and Domino's sell twice as many pies as they do on any other day and Americans will eat more than 28 million pizza slices from just two of the country's biggest pizza chains.
The Hass Avocado Board predicts that over Super Bowl weekend approximately100 million pounds of guacamole will be eaten – and approximately 14,500 tons of chips are used to scoop it up.
About 2 million cases of beer are sold every year for Super Bowl – which might explain why 6% of Americans call in sick for work the next day.
If You Want To Save Some Calories …
Stick with grilled meat, veggies, or baked chips rather than fried. Turkey, baked ham, and grilled chicken are better choices than wings and fried chicken.
Plain bread, pitas, or wraps are less caloric than biscuits or cornbread.
Go for salsa and skip the guacamole. Guacamole is made with healthy avocados, but is quite high in calories. You can always alternate guacamole and salsa, too.
Minimize calories by dipping chicken wings into hot sauce instead of Buffalo or Blue Cheese sauce.
Try using celery for crunch and as a dipper instead of chips.
Go for thin crust rather than thick doughy crust pizza. Choose the slices with vegetables, not pepperoni or meatballs. If you're not embarrassed, try blotting up the free-floating oil that sits on top of a greasy slice (soak up even a teaspoon of oil saves you 40 calories and 5 grams of fat).
Cut your slice of pizza in half. When you go back for seconds, eat the second half. You'll feel like you're eating two slices, but you're eating only one.
Try fruit for dessert – or have just one cookie or a small piece of pie – leave some of the crust on your plate. Home made pie crust has around 150 calories (single crust pie), so leaving some pie crust on your plate can save you some significant calories.
Alcohol adds calories and dulls your mindful eating. Try alternating water or diet soda with beer or alcohol. That can decrease your alcohol calories (alcohol has 7 calories/gram) by 50%.
Put your food on a plate rather than constantly picking, it's a form of portion control. And step back from the buffet. If you can't reach out and grab it and you can't see it, you won't eat it.