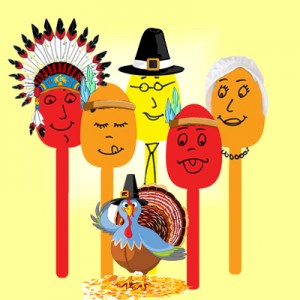 Does someone in your family always insist that you have to have seconds of everything – and then send you home with more? I hope you've gotten some tips on how to handle this from my book for your kindle or kindle reader — The Sensible Holiday Eating Guide:  How To Enjoy Your Favorite Foods Without Gaining Weight.
Free 1/2 Teleseminar
You can still sign up to get more tips and strategies on how to handle these challenges.  Join me for a free bonus ½ hour teleseminar tomorrow, Thursday, November 15th at 12 noon (Eastern).
During the teleseminar I'll give some tips and strategies for handling Thanksgiving eating challenges whether they're from eating an extra meal while you cook, overeating during the big meal, or non-stop gobbling of leftovers for days afterward.
To access the free teleseminar  click HERE and  enter your name and email address in the sign-up box.
Once you submit your information, you'll receive an email asking you to confirm your interest in participating.
Click the confirmation link and that's it – you'll be given the phone number for you to call in and participate.  If you can't participate at the time of the teleseminar, no worries – it will be recorded and you'll be sent the link to the recording by email.