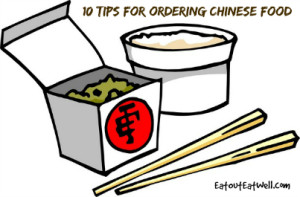 Are you planning on ordering some takeout Chinese food?  Are you  careful to order dishes that are filled with vegetables because they probably have fewer calories and less fat ? Think again.
Chinese takeout can be a friend – or the devil in disguise.  Commercial Chinese food – or what you usually get for takeout – can be extremely high in fat (a caloric nightmare) and very high in sodium.  Then there's portion size:  those little white boxes hold a lot. How often do you eat right out of the box – or refill your plate because it's too little to really save – and why throw it away?
Ten Tips
1. Learn how to interpret the menu and look for foods that are:
Steamed
Jum (poached)
Chu (broiled)
Kow (roasted)
Shu (barbecued)
2.    Aim for a plate filled with more veggies than meat and ask for them to be lightly stir-fried rather than battered or deep fried (crispy means fried). All vegetable dishes are not on the "good choice" list. A serving of eggplant in garlic sauce (eggplant soaks up oil) has 1000 calories; 13g saturated fat; 2000mg sodium.  Mu shu pork (without pancakes) has a lot of vegetables and also has 1000 calories and 2600 mg sodium.  An 8-inch pancake adds about 90 calories, a 6-inch pancake adds 60 calories. Mu shu chicken is a better choice with about 5g less fat less and 200 fewer calories per serving.
3.    Eat with chopsticks:  it takes longer to eat and you can't scoop up as much of the sauce or oil as you can with a fork.
4.    Don't let the fried noodles near your table – or out of the takeout bag – because one package has about 180 calories; 8g fat; 420mg sodium.
5.    Soup – like hot and sour, egg drop, or wonton — is a good lower calorie choice (around 100 calories per cup) to fill you up – but is usually loaded with sodium. One cup of hot and sour soup has 91 calories, 3g fat, 876 sodium.
6.    Be careful with the thick sweet sauces like sweet and sour.  They are often made with flour, cornstarch, sugar, corn syrup.  Better choices are hoison, oyster, and hot mustard.
7.    Beware the rice:  there are around 200 calories in a cup of white or brown rice.  A takeout container often contains two cups.  Basic fried rice – without any additions — is about 230 calories per cup — 1 cup of chicken fried rice has 329 calories; 11.96g fat; 598mg sodium.
8.    Lay off the barbecued spare ribs – four can have around 600 calories. One-half slice of fried shrimp toast has 148 calories; 9.27g fat; 447mg sodium.
9.    Try steamed dumplings instead of the more fatty egg rolls or fried wontons. One egg roll has 220 calories; 11g fat; 412mg sodium. A spring roll, with its thinner wrapper and smaller size, is a better choice at about 100 calories and 300 mg sodium. A meat filled fried wonton has 54 calories; 2.52g fat; 111mg sodium. A steamed dumpling filled with meat, poultry, or seafood is probably the best choice clocking in at 41 calories; 0.98g fat; 161mg sodium.
10. How much are you loading onto your plate – especially out of a takeout container? The amount of food that arrives on your plate in a restaurant, or that's delivered for your takeout order, is often considerably larger than a standard portion. You could be tallying many more calories than you think.  Next time you have Chinese take-out – just to give yourself a guideline — haul out your measuring cup to see how big the portion is that you just plopped on your plate. You might be surprised.