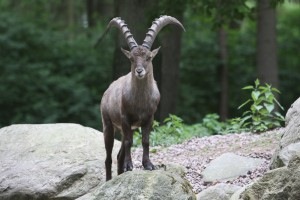 Katsikaki:  Kid Goat
It all started last fall on a trip to Washington DC. I had dinner at Komi, a fabulous Greek/Mediterranean restaurant.  The highlight (or one of the highlights, there were many) was katstikaki, Greek for a kid goat.  I have had goat before, but this preparation was memorable.
Fast forward 5 months.  I paid a visit to a butcher in New York City to order lamb for Easter dinner. This particular butcher only sources from the Northeast.  "No lamb," I was told – "Easter is early and the local lambs are not ready – but we are stocking goat for six weeks through Easter."
I've never prepared goat before, but was up for the challenge.  However, animal lover that I am, I had to dissociate the image of the animal from the meat.  Goat would be fine as long as it did not bear any resemblance to the animals at the nature center or the ones I've seen perched on the sides of cliffs.
I placed my order for two legs of goat (they're small), which I later had to increase to three – everyone I invited was so intrigued by the thought of goat, they agreed to come.  I even tried for four legs, but ended up with a tripod – the supply was exhausted!
Goat: the most widely consumed meat in the world
Goat is a staple of Mexican, Indian, Greek, Southern Italian, Middle Eastern, Caribbean, and other cuisines. Baby goat, also called cabrito or capretto, is low in fat and cholesterol.  It is similar to venison in its flavor and texture, but it isn't gamey.  Kid goat meat is tender and delicate like young lamb and is similarly prepared. Mature goat meat is tougher and more strongly flavored. Goat meat (also called Chevon), can be stewed, baked, braised, grilled, roasted, and barbequed.  Some cultures roast the goat on a spit or in a pit.
Goat Nutrition
Goat is nutritionally superior to beef or chicken, with a low fat content. Since goat is a red meat, it contains iron and B vitamins.
According to the USDA:
3 oz. cooked (Roasted)
Calories
Fat

(Gr.)

Saturated Fat

(Gr.)

Protein

(Mg.)

Goat
122
2.58
.79
23
Beef
245
16
6.8
23
Pork
310
24
8.7
21
Lamb
235
16
7.3
22
Chicken
120
3.5
1.1
21
Cooking Our Goat
How to cook our three legs of goat prompted much family discussion.  One son suggested roasting the goat on a spit in the front yard, another suggested digging a pit in the back yard, the third, wisely, suggested braising it, indoors, in a large pot.  I was on a quest for goat info. I googled and talked.  I asked a couple of chef acquaintances.  I went to primary sources:  a couple of Greek mamas who own diners and cook lots of goat.
Bottom Line
You can cook goat, especially baby goat, much like lamb.  When it came down to the wire, we ended up making goat stew – two different ways. We browned cubed goat, along with onion, garlic (lots), carrots, and celery.  With a house full of people crowding the kitchen and eating constantly, we did the prep work and browning the night before and the stewing the next day.  Because we couldn't decide on our preferred flavorings, we made two stews – one with red wine and tomato paste, the other with white wine and lemon.  We also made liberal use of oregano.  We served the stew(s) with orzo, asparagus, and sautéed kale.
No Leftovers
Everyone – from an eighteen month old to an 85 year old – ate goat – both kinds.  No clear favorite for red wine/tomato stew vs. white wine/lemon stew.  A great meal, flavorful, satisfying, and quite nutritious.  Room for dessert.