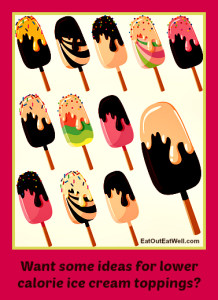 You can put just about anything on ice cream  — and most likely — someone, somewhere in the world has chosen some pretty random and unique toppings to put on their plain old vanilla or some other esoteric flavor.
Toppings Can Add A Mountain Of Calories
The problem is, of course, that the standard fare:  toppings like hot fudge, whipped cream, peanuts, walnuts in syrup, crushed heath bar, caramel sauce – can add hundreds of calories and not much nutrition to your sundae or cone.  It's likely that nutrition is not your first thought when visions of ice cream dance in your head, but calories (and perhaps nutrition) might be.
To save calories, the first thing you can do is to order a small serving of ice cream instead of a medium or large (or one scoop instead of two or three).  Even if you indulge in your favorite full-fat flavor, you'll save as many as 550 calories with a 5-ounce size instead of a 12-ounce.
 Calories In Some Common Ice Cream Toppings
Smucker's Spoonable Hot Fudge Topping:  2tbsp, 140 calories, 4g fat, 24g carbs, 2g protein
Smucker's Spoonable Ice Cream Topping Pecans in Syrup Topping:  1tbsp, 170 calories, 10g fat, 20g carbs, 1g protein
Regular Redi Whip:  2tbsp, 20 calories, 2g fat, 1g carbs
Cool Whip, extra creamy:  2tbsp, 32 calories
Regular M&M's:  10 pieces,103 calories, 5.2g fat, 12.1g carbs, 1.9g protein
Peanut M&M's:  about 16 pieces, 200 calories, 10.15g fat, 23.48g carbs, 3.72g protein
Peanuts (1oz): 160 calories, 14g fat, 5g carbs, 7g protein
Some Standbys That Are Lower In Calories
Rainbow Sprinkles (Mr. Sprinkles):  1 tsp, 20 calories, 0.5g fat, 3g carbs, 0g protein
Chocolate Sprinkles (jimmies):  1 tbsp, 35 calories, 0g fat, 6g carbs, 0g protein
Smucker's Spoonable Ice Cream Topping, Light Hot Fudge, Fat Free:  2 tbs, 90 calories, 23g carbs, 2g protein
10 mini marshmallows:  22 calories, 0 fat, 5.7g carbs, .1g protein
18 gummi bears: 140 calories, 0 fat, 43.5g carbs, 0 protein
Think Outside The Box For Lower Calorie Choices
If the world is your oyster in terms of toppings, why not think about fruit, cereal, or a crushed up 100-calorie pack of anything? Here are some other suggestions:
Smucker's Spoonable Pineapple Topping:  2 tbsp, 100 calories, 0g fat
Regular Redi Whip:  2 tbsp, 20 calories, 2g fat, 1g carbs
Fat Free Redi Whip:  2 tbsp, 5 calories, 0g fat, 1g carbs
Cool whip, light:  2 tbsp, 16 calories
Cool Whip, fat-free:  2 tbsp, 15 calories, 43.5g carbs, 0 protein
1 mini box of raisins (.5 oz):  42 calories, 0.1g fat, 11.1g carbs, 0.4g protein
One medium banana: 105 calories, 0 fat, 27g carbs, 1g protein
One cup strawberry halves: 49 calories, 0.5g fat, 11.7g carbs, 1g protein
Sugar-free Jello pudding:  60 calories
One cup Froot Loops:  118 calories, 0.6g fat, 26.7g carbs, 1.4g protein
One cup blueberries:  83 calories, 0.5g fat, 21g carbs, 1.1g protein
Crushed pretzel sticks, 1 oz:  110 calories, 1g fat, 23g carbs, 3g protein
Just so you know:
Sugar cone (Baskin-Robbins):  45 calories
Cake or wafer cone (Baskin-Robbins):  25 calories
Waffle cone (Baskin-Robbins):  160 calories