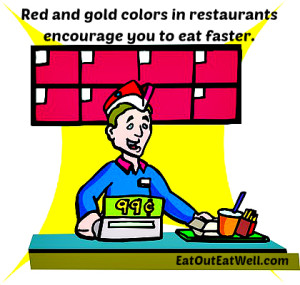 What are the main colors used in McDonald's, Burger King, KFC, and most fast food restaurants – diners, included? Answer:  Red and gold.
Restaurant Décor Is Planned For A Reason You Might Not Guess
Restaurant decor isn't an accident, especially in chain restaurants keyed into behavioral and eating psychology.  Restaurants are designed with the intention of getting you to eat and run or to keep you at the table longer so you order more.
Speed Eating
Fast food and high turnover restaurants are decorated for speed eating.  No soothing pastels, sound absorbing surfaces, or soft music to be seen or heard. Instead you'll find loud music, noise reflecting off of hard surfaces, and high arousal color schemes — frequently red and gold.
It takes about 20 minutes for your stomach to communicate to your brain that you're full. A red, gold, and noisy environment makes you gulp your food and reach for more way before 20 minutes have come and gone. Or, it helps convince you to gulp down your food and make your exit pretty quickly. The rapid table turnovers allow the restaurant to pack more people in – and then serve more food – quickly!
Leisurely Dining
On the other hand, people tend to linger at restaurants with low lighting, soft music, flowers, and tablecloths.  The white tablecloths and soft music of "fancy" restaurants make it pleasant to linger longer — and order another glass of wine, dessert, coffee, or after dinner drink. The attentive waitstaff obligingly offers you more and more options — and you're likely to agree. In this type of eating environment you end up ordering and eating more than you had planned.
Know your setting:  pace yourself in the speed environment and avoid the temptation to keep ordering in the relaxed environment.