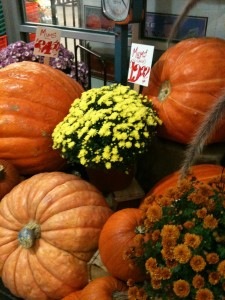 If you've ever carved (or tried to carve) a pumpkin, one thing you know for sure:  the pulp and the pumpkin seeds that fill the inside of the pumpkin are stringy, slimy, and slippery as all get out.
Halloween

And Kitchen Plumbing Problems

Apparently, this causes lots of kitchen plumbing problems.

How do I know this?  I got an emailed "Pipeline Newsletter" from Roto-Rooter (and away go troubles down the drain). No kidding.   Last year, in the middle of an antarctic cold spell, I had to call them to churn through what seemed like an iceberg, but in reality was a large clump of ice lodged in the pipes somewhere in the bowels of my house.  I guess they saved my email address!

They just wanted to let their clients know that plumbers can get very busy around this time of year.

Why?  During the Halloween season an incredible amount of pumpkin pulp is scraped out of pumpkins by big and little hands using all kinds of utensils.  Although the scooped out flesh might end up in fantastic pies and bread, the seeds and pulp stuff can cause some plumbing nightmares.  The plumbers get called to repair garbage disposers and kitchen sink drains that have been clogged with the slimy, stringy pumpkin pulp and seeds.
What To Do
To help guard against Halloween drain disasters Roto-Rooter suggests that you never put pumpkin pulp or seeds down the toilet, sink drain, or in the garbage disposer.  The slimy, stringy, sticky pumpkin innards clog drains and pipes and can eventually form a hardened blockade inside your plumbing.
They suggest that you carve your pumpkins on a thick pile of newspaper that you can wrap up and take it to the compost pile or garbage pail.
If you separate the seeds out from the slimy stuff before you toss it you can save them and plant then them in the spring for homegrown crop of pumpkins next year.
Or, you can roast them for a healthy, tasty treat. Roasted pumpkin seeds taste great and have contain lean protein and essential minerals like zinc, iron, copper and magnesium. One ounce of pumpkin seeds (28 grams, or about 85 seeds) has 126 calories, 5 g fat (1g is saturated), 15g carbohydrate, and 5g protein.
Some
Halloween

Trivia:

In case you get involved in a Halloween trivia contest, according to the Guinness World Records:
the world's largest jack o'lantern was carved from a 1469 pound pumpkin on October 31, 2005 in Northern Cambria, Pennsylvania
the fastest time on record for carving a face into a pumpkin is 24.03 seconds, recorded in Orlando, Florida on July 23, 2006
Happy Halloween!