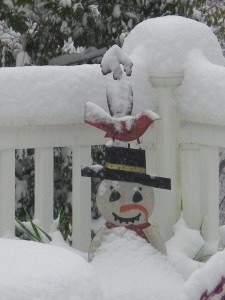 Chocolate chip cookies. That's what a friend said to me as we waited for our kids to get off of the school bus after early dismissal from school because of snow.  Walking down the street to our houses, the snow was blowing sideways and the kids were ecstatic to be flinging snowballs at each other.  "Why do I always want to bake chocolate chip cookies when it snows?" was her question.
Who knows?  Although I've found no scientific study to back this up, I think we retreat to comfort food when we're housebound – food that is simple, familiar, and often has emotional ties and pleasant memories, especially of childhood.
With the major snowfalls in the East this past week, there have been lots of recipes posted on the web for snow ice cream, maple syrup over snow – most of which caution using freshly fallen clean snow! Most of the recipes and food talk has been about hearty, belly satisfying food and sweet, perhaps soul satisfying food.
Right now my view from my windows is of snow coming down heavily and blowing sideways.  I can't help but wonder if my friend – or maybe her kids – made chocolate chip cookies today.
The good thing is that having a snowball fight or shoveling snow (for a 150 pound person,15 minutes of shoveling burns about 100 calories) is one way to burning off some those comfort food calories.