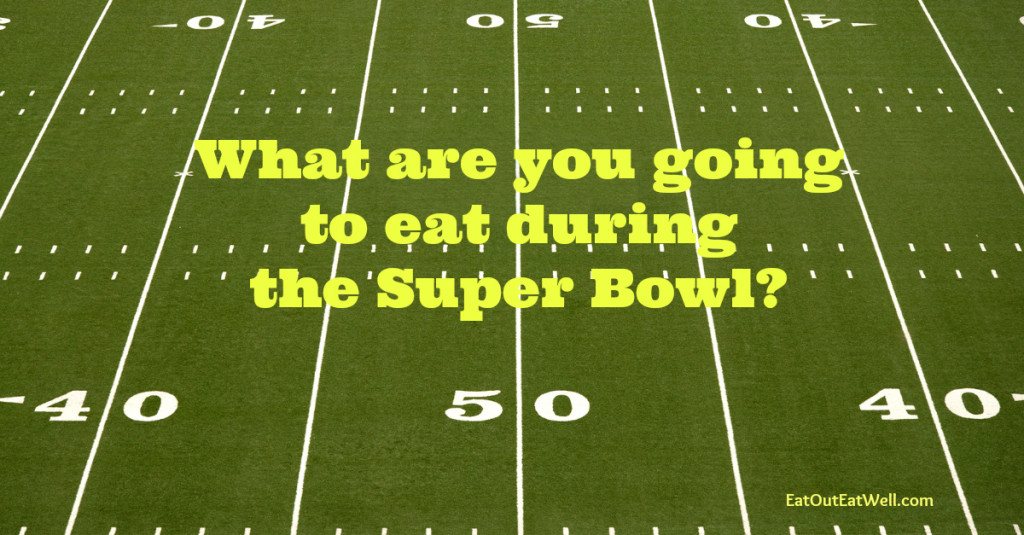 It's amazing how food has become associated with football — from tailgating to Super Bowl parties to the selection of food sold in stadiums. Where there's football there also seems to be many opportunities to eat, often mindlessly.
Even when you're surrounded by a smorgasbord of highly caloric, fatty, salty, and sweet foods there are plenty of opportunities for eating deliciously well if you are a bit more mindful about your choices.
Tostada with guacamole:  2 pieces (9.3 oz), 360 calories, 23g fat, 32g carbs, 12g protein
Salsa:  1 tablespoon 4 calories, .04g fat, 1g carbs, .2g protein
Nacho flavored tortilla chips, reduced fat:  1 oz, 126 calories, 4g fat, 20g carbs, 2g protein
Regular Nacho flavored tortilla chips:  1oz, 141 calories, 7g fat, 18g carbs, 1g protein
Potato chips:  1oz, 152 calories, 10g fat, 15g carbs, 2g protein
Potato chips, reduced fat:  1 oz, 134 calories, 6g fat, 19g carbs, 2g protein
Raw baby carrots:  1 medium, 4 calories, 0 fat, .8g carbs, 0 protein
Pizza with cheese:  1 slice (1/8 of a 12" pie), 140 calories, 3g fat, 20g carbs, 8g protein
Pizza, pepperoni:  1 slice (1/8 12" pie), 181 calories, 7g fat, 20g carbs, 10g protein
Grilled chicken breast:  one 4.2 oz breast, 180 calories, 4g fat, 0 carbs, 35g protein
KFC Fiery hot Buffalo wing:  one 1oz wing, 80 calories, 5g fat, g carbs, 4g protein
KFC extra crispy drumstick:  one 2oz piece, 150 calories, 6g carbs, 11g protein
Chili (Wendy's, with saltine crackers):  8 oz, 187 calories, 6g fat, 19g carbs, 14g protein
Wheat bread:  1 slice, .9 oz., 65 calories, 1g fat,, 12g carbs, 2g protein
Italian combo on ciabatta (Panera):  1 sandwich, 1lb. 7 oz, 1050 calories, 47g fat, 94g carbs, 61g protein
Subway 6g of fat or less turkey breast & ham on wheat sandwich:  8.3oz, 296 calories, 4g fat, 48g carbs, 19g protein
Chocolate chip cookie:  2-1/4" from refrigerated dough. 59 calories, 3g fat, 8g carbs, .6g protein
Chocolate ice cream, Cold Stone Creamery:  5oz (like it), 326 calories, 20g fat, 33g carbs, 5g protein
Apple:  medium, 95 calories, .4g fat, 25g carbs, .5g protein
If You Want To Save Some Calories …
Stick with grilled meat, veggies, or baked chips rather than fried. Turkey, baked ham, and grilled chicken are better choices than wings and fried chicken.
Plain bread, pitas, or wraps are less caloric than biscuits or cornbread.
Go for salsa and skip the guacamole. Guacamole is made with healthy avocados, but is quite high in calories. You can always alternate guacamole and salsa, too.
Minimize calories by dipping chicken wings into hot sauce instead of Buffalo or Blue Cheese sauce.
Try using celery for crunch and as a dipper instead of chips.
Go for thin crust rather than thick doughy crust pizza. Choose the slices with vegetables, not pepperoni or meatballs. If you're not embarrassed, try blotting up the free-floating oil that sits on top of a greasy slice (soak up even a teaspoon of oil saves you 40 calories and 5 grams of fat).
Cut your slice of pizza in half. When you go back for seconds, eat the second half. You'll feel like you're eating two slices, but you're eating only one.
Try fruit for dessert – or have just one cookie or a small piece of pie – leave some of the crust on your plate. Home made pie crust has around 150 calories (single crust pie), so leaving some pie crust on your plate can save you some significant calories.
Alcohol adds calories and dulls your mindful eating. Try alternating water or diet soda with beer or alcohol. That can decrease your alcohol calories (alcohol has 7 calories/gram) by 50%.
Put your food on a plate rather than constantly picking, it's a form of portion control. And step back from the buffet. If you can't reach out and grab it and you can't see it, you won't eat it.