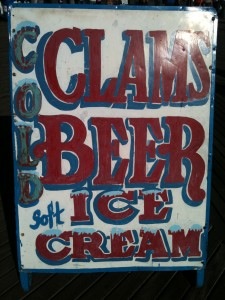 The Boardwalk at Coney Island
I spent most of Saturday at Coney Island.  It was an absolutely beautiful day and I was there for a birthday party.  What a fantastic idea.
We all had lunch at a Peruvian chicken place.  Chicken, rice and beans, plantains, and some French fries thrown in for good measure.  The chicken was marinated and roasted, the plantains sauteed in butter and brown sugar.  The rice and beans were just that — white rice and brown beans.
Given the other options, this was not a bad meal.  The chicken was very tasty and not fried.  The plantains were very sweet and the rice and beans were not greasy.  The French fries were crispy — but still French fries.  No green food or other veggies in sight.
Birthday cake:  Homemade and decorated with jelly beans.  Birthday girl:  Loved it.


The Alternatives
These are pictures of  what was mostly available.  Although all of these photos were taken on the boardwalk   at Coney Island (near the New York Aquarium), this kind of food is what can be found at many amusement parks.  Peruvian chicken was certainly the best food option in this case.  An even better one could be to bring your own lunch if you want to — otherwise, build this type of meal into your eating for the day.  Whichever choice you make, enjoy.  I certainly did.