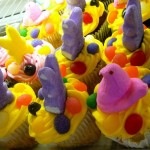 Peeps, Jelly Beans, Chocolate Bunnies and Candy Easter Eggs
Easter candy nesting in baskets on beds of paper straw.  Brightly wrapped candy stuffed in plastic eggs for Easter egg hunts.  Chocolate smeared over little kids' faces and indestructible peeps molded into weird shapes before being popped in the mouth.
It's Easter candy time.  Face it – admit it – Easter candy is seductive.  I dare you to eat one jelly bean or unwrap and savor just one brightly colored mini-chocolate Easter egg.
If you are going to indulge — and sometimes a celebratory treat is worth it — you might as well know a little about your Easter candy sweet treats so you can factor their caloric punch into your eating plan.
Jelly Beans
Oh, those little nuggests of sweetness that come in multitudes of colors and flavors.  Primarily made of sugar, jelly beans also usually contain gelatin, corn syrup, modified food starch, and less than 0.5% of citric acid, sodium citrate, artificial flavors, confectioners glaze, pectin, carnauba wax, white mineral oil, magnesium hydroxide, and artificial colors (takes some of the fun out of them, doesn't it).
The gummy inside of the jelly bean may have originated centuries ago from the treat, Turkish Delight.  The outside of the jelly bean is basically the same as the colored hard candy coating, developed in the late 17th century, for the Jordan almond.  The modern jelly bean appeared during the American Civil War when Boston's William Schraft encouraged sending candy to Union soldiers.  Around 1930, jelly beans, with a shape resembling Easter eggs, became popular as an Easter candy.
Although standard jelly beans come in fruit flavors, there are also spiced, mint, gourmet, tropical, and novelty flavors (popcorn, bubble gum, pepper, cola, etc,) available.  They also now come in a sugar free version (seems weird, but true – wonder how many chemicals are in those).
Jelly beans may give you Technicolor insides, but they are fat free.  On average, 10 small jelly beans (11g) have 41 calories, no fat, no cholesterol, no protein, and 10.3 grams of carbs.  Ten large jelly beans (1 oz or 28g) have 105 calories, no fat, no cholesterol, no protein, and 26.2g carbs.
Marshmallow PEEPS
These vividly colored marshmallow bunnies and chicks were hatched over 50 years ago. They are called PEEPS because the original candy was the yellow chick.  Now produced for many holidays – in seasonal colors and shapes, of course —  they continue to be the subject of numerous design contests (you'd be amazed what you can make out of peeps) and scientific experiments (some claim them to be indestructible). Just Born, the parent company of PEEPS, claims, on their website, to produce enough PEEPS in one year to circle the Earth twice.
For more than a decade, PEEPS have been the number one non-chocolate Easter candy in the U.S. Although yellow is America's favorite color for PEEPS chicks and bunnies, they also come in pink, lavender, blue, orange and green.  Made of sugar, corn syrup, gelatin, and less than 0.5% of potassium sorbate, natural flavors, dye, and carnauba wax, they are gluten and nut free.  You can even get sugar free PEEPS made with Splenda.  Five little chicks (42g, listed as one serving size) has 140 calories, 0g fat, 1g protein, and 36g carbs.
People have definite PEEPS preferences. Some like them nice and soft, others leave them out in the air to age to perfection so they get a little crunchy on the outside.  They've been microwaved (careful, they expand and can make quite a mess), frozen, roasted, used to top hot chocolate, and added to recipes. They don't toast well on sticks like regular marshmallows – the sugar coating tends to burn. Newspapers have been known to run contests for best PEEP recipes and best PEEP pictures.
SocialDieter Tip:
Many of us have emotional and traditional ties to certain foods – especially ones connected to holidays.  If Easter candy means a lot to you, have some, in moderation.  Just add it into your caloric consumption for the day – or balanced out over the course of several days. The trouble lies with eating handfuls of jelly beans, whole Easter bunnies, crates of chocolate eggs, and barnyards of marshmallow peeps – and then continuing to eat them until the supply runs out.  Make up your mind that you'll eat a certain amount, commit to only that amount, enjoy it, savor it, and then stop.  Give the extras away, get them out of sight and out of mind.  Dispatch them to where they are not calling your name and they are not within easy reach (the kitchen cabinet is too easily accessible).
My next post will give you the low down on chocolate Easter eggs.