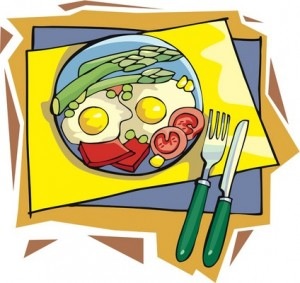 My Mom always made me eat a "good" breakfast – eggs, leftover hamburgers from the night before, some kind of hot cereal made with milk.  My Mom grew up on a working farm – and farmers had the right idea about the need to fuel themselves for the coming day (and to use whatever food was on hand). The habit of eating a healthy breakfast has stuck with me, but even though many of you know how important it is, you probably don't always make it a priority or carve out enough time to do it.
The advice to eat a good breakfast has been around for centuries.  It's clear how it affects your body's biology, but now it's being documented that eating a healthy breakfast — especially one high in protein – can leave you feeling fuller and less hungry throughout the day.
A Breakfast Study
Research published in the journal Obesity studied teens who either skipped breakfast or ate a 500 calorie breakfast of cereal and milk (with normal amounts of protein) or higher protein meals like Belgium waffles with added protein, syrup, and yogurt for three weeks.
At the end of each week, the teens filled out appetite and satiety questionnaires, and had a brain scan before lunch that used functional magnetic resonance imaging (fMRI) to identify brain activation responses.
The researchers focused on teens because 60% of them skip breakfast and breakfast skipping is strongly associated with unhealthy snacking, overeating (especially at night), weight gain, and obesity.
What They Found
The results showed that eating breakfast led to increased fullness and less hunger throughout the morning.  The fMRI showed that before lunch there was also reduced brain activity in regions that control food motivation and reward.
Eating breakfast reduced brain signals that lead to reward driven eating behavior when they're active.  The higher protein breakfast produced greater feelings of satiety and changes in reward driven eating behavior than the normal protein milk and cereal meal.
Since skipping breakfast is associated with more snacking and food cravings, breakfast — especially one that is rich in protein — could be an effective strategy in controlling appetite and preventing overeating.