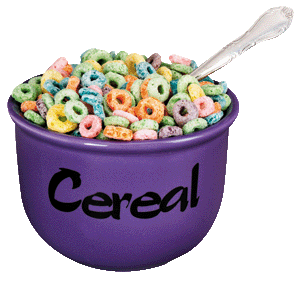 Cereal, Cereal, And More Cereal
Wow!  160 bowls of cereal a year, give or take, is the average American intake.  The most popular:  General Mills' Cheerios, claiming  12.6% of the breakfast cereal market share.
How To Pick A Good Cereal
Step #1: check the ingredients and nutrition panel carefully. The very first ingredient should be a whole grain.  Scan through the label for the words "partially hydrogenated."  If you find them put the box back on the shelf.  You don't want trans fats in your cereal.
Step #2:  Look for cereals that have 13 grams or less of sugar per serving.  Check for added sugars  — you want none or next to none.  Raisins, dried and freeze-dried fruit  add quite a few grams of sugar to the listing on the nutrition panel where they aren't distinguished from added sugars. Check the list of ingredients instead.
Step #3:  Check the amount of fiber (you want a lot).  The daily recommendation is 25 grams of fiber a day so it's important to pick cereals that contain at least 3 grams per serving. A better choice are those with 5 grams of fiber or higher.
Step #4: If you are counting calories, choose cereals that ideally will have less than 120 calories a serving.
What About Fruit In The Cereal?
A bunch of cereals have real freeze-dried berries, apples, and bananas added in. That's generally a good thing.   If the freeze dried fruit makes the switch from sugar laden cereal to a more nutritious high fiber low sugar cereal easier, then go for it.
So Are There Nuts In Honey Nut Cheerios And Strawberries In Special K Red Berries?
Amazingly, yes to the strawberries and no to the nuts.
For a one cup serving, Special K Red Berries has 120 calories, 2 grams of fiber, 9 grams of sugars, and 2 grams of protein.
Ingredients:  rice, whole grain wheat, sugar, wheat bran, freeze-dried strawberries, high fructose corn syrup, soluble wheat fiber, salt, malt flavoring,  ascorbic acid, reduced iron, alpha tocopherol, niacinamide, pyridoxine hydrochloride, thiamin hydrochloride, riboflavin, vitamin A palmitate, folic acid, Vitamin B12.
A 3/4 cup serving of Honey Nut Cheerios has 110 calories, 2 grams of fiber, 9 grams of sugars, and 2 grams of protein.
Ingredients:  whole grain oats (oncludes the oat bran), sugar, modified corn starch, honey, brown sugar syrup, corn bran, salt, corn syrup, oat fiber, corn syrup solids, tripotassium phosphate, canol and/or rice bran oil, guar gum, natural almond flavor, vitamin E (mixed tocopherols) added to preserve freshness. Vitamins and Minerals: Calcium Carbonate, Zinc and Iron, Sodium Ascorbate, Niacinamide, Pyridoxine Hydrochloride, Riboflavin, Thiamin Mononitrate, Vitamin A Palmitate, Folic Acid,Vitamin B12, Vitamin D3.
Do you see nuts listed? No.  There aren't any actual nuts.  There is "natural almond flavor."  What's that you ask?   It's benzaldehyde which is usually derived from peach and apricot pits.
What's A Good Cereal Choice For Breakfast?
There are a number of choices that fit the bill.  A good one is Kashi Go Lean (original).  A serving size is one cup with 140 calories, 10 grams of fiber, 6 grams of sugars, and 13 grams of protein.
Ingredients:  Soy grits, Kashi seven whole grains & sesame (hard red wheat, brown rice, whole grain oats, triticale, barley, rye, buckwheat, sesame seeds), evaporated cane juice syrup, corn meal, corn flour, soy protein, wheat bran, oat fiber, corn bran, honey, evaporated cane juice, natural flavors, calcium carbonate, salt, annatto color.
Remember that adding milk ups the protein content of your breakfast. Full, 2%, and 1% milk adds fat, too, so try to stick with non-fat milk in your cereal bowl.