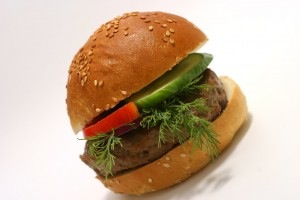 I had a Portobello mushroom burger the other day.  The burger was a whole Portobello cap – not ground up stuff that always leaves me wondering what exactly is making up the brown burger shaped thing that I'm eating.
Don't get me wrong – I like veggie burgers – I just don't like unidentified mixtures described as a veggie burger.  That could mean a whole range of ground up veggies – perhaps the ones left over from last evening's dinner.  It could also mean almost no veggies and a whole lot of fillers and non-meat protein additives to give the burger some bulk and to make the patty stick together.
Veggie Burgers Are Everywhere
You can find veggie burgers everywhere – Burger King has a BK Veggie Burger and the frozen food aisle is loaded with them.  But are they healthier than a hamburger or turkey burger?
A regular, not a whopper, monster, or even a large size hamburger eats up a big chunk of the  recommended daily limit of 15 to 30 grams of saturated fat (depending on caloric intake).  Most veggie burgers have none to one gram of saturated fat – without the bun, cheese, mayo, etc.
Most veggie burgers weigh 2.5 ounces and have 70 to 170 calories. A "standard" meat patty is three ounces after cooking (a quarter pound of uncooked ground beef yields a 3 ounce burger). A patty made from ¼ pound of ground chuck has 193 calories, 12 g of fat (4 saturated).  Obviously, the size of the burger and the type and leanness of the meat affects its nutrition content.
Why Eat A Veggie Burger?
Some people eat veggie burgers rather than traditional hamburgers to cut calories and saturated fat, to boost their dietary fiber intake, to cut back on red meat, or for the convenience of being able to cook a frozen veggie burger in a couple of minutes.
BUT — know what you're eating.  Shockingly, not all veggie burgers are mostly veggies.  The ones with more soy and some oil produce a more burger like texture and the ones with more grains and vegetables are less meat-like.  However, based on the ingredient lists shown below – you should question how many vegetables you are getting.
Where's The Veggies?
Boca Burger: 120 calories, 5g fat (1.5 saturated), 380 mg sodium, 6g cars, 5g fiber, 14g protein
Ingredients: water, soy protein concentrate, reduced fat cheddar cheese (pasteurized part-skim milk, cheese culture, slat (no typo this is from their website), enzymes, annatto (color), vitamin A palmitate, wheat gluten, corn oil, contains less than 2% of methylcellulose, hydrolyzed corn protein, wheat gluten and soy protein, slat, caramel color, cheese powder (cheddar cheese, milk, cheese culture, salt, enzymes), cream, salt, sodium phosphate, lactic acid, dried onions, yeast extract, natural flavor (non-meat), sesame oil, disodium guanylate, disodium inosinate, browned in corn oil.
Boca Grilled Vegetable Patty: 80 calories, 1g fat, 300mg sodium, 7g carbs, 4g fiber, 12g protein
Ingredients: water, soy protein concentrate, red bell peppers, corn succhini, green bell peppers, onions, wheat gluten, contains less than 2% of asiago cheese (pasteurized part-skim milk, cheese culture, salt, enzymes, potassium sorbate as a preservative, low-moisture part skim mozzarella cheese (cultured pasteurized part-skim milk, salt, enzymes), dried garlic, methylcellulose, salt, caramel color, dried onions, autolyzed yeast extra ct, natural flavor (non-meat), spice, dextrose
MorningStar Farms Grillers Vegan Veggie Burgers: 100 calories, 2.5g fat, 4g fiber, 12g protein  (from website, I couldn't find sodium count)
Ingredients:

water, textured soy protein concentrate, corn oil, contains two percent or less of autolyzed yeast extract, vegetable gum, natural flavors from vegetable sources, maltodextrin, soy fiber, salt, carrageenan, potato starch, onion powder, caramel color, disodium inosinate, disodium guanylate, konjac flour, sunflower oil, sesame seed oil, soy sauce (water, soybeans, wheat, salt), concentrated onion juice, ascorbic acid, vinegar powder, citric acid, aspartic acid, modified corn starch, malic acid, succinic acid, tartaric acid, lactic acid, wheat flour, soy lecithin
BK Veggie Burger (as described on their website):  A Morningstar Farms Garden Veggie Patty, garden crisp vegetables, whole grains, and spices all topped with lettuce, red ripe tomatoes, ketchup, creamy mayo, served on a sesame seed bun
Nutrition: 400 calories, 16g fat (2.5 saturated), 1020 mg sodium, 43g carbs (8 sugar), 22g protein
BK Hamburger: flame-broiled beef patty, crunchy pickles, yellow mustard, ketchup, sesame seed bun.
Nutrition: 260 calories, 10g fat (4 saturated), 490 mg sodium, 27g carbs (6g sugar), 13g protein
Enough said!!!  Come back on Friday for some choices for veggie burgers with a few more veggies in the mix!