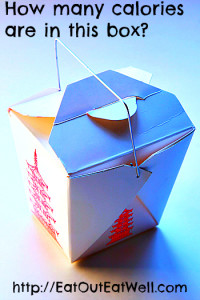 Are you going to have Chinese food?  Do you think you're getting off easy because of all of the vegetables? Think again.
There are 466 calories in a cup and a half of beef and broccoli stir-fry (and about a day's worth of sodium).  One cup of fried rice has 333 calories.  If you also have a vegetable spring roll to start for 63 calories and three fortune cookies to end for about 100 calories, your meal comes in at around 1000 calories.  You could share this meal and save 500 calories.
Another thing to think about – are you sure that you aren't eating more than the portion sizes shown here? The amount of food that arrives on your plate or in a take-out box is often considerably larger than a standard portion.
You could be tallying many more calories than you think.  Next time you have Chinese take-out, haul out your measuring cup and measure how big the portion is that you just plopped on your plate. You might be horrified.
This is Tip #7 of "The Five"– lose 5 pounds in 5 weeks by decreasing calories, increasing activity, or a combination of the two.  Post your progress on Facebook.