KFC's One-Of-A-Kind Bunless Sandwich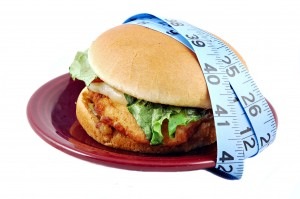 D-Day:  April 12th, the premier day for KFC's Double Down one-of-a-kind sandwich.  What is it?  A bunless sandwich made of two boneless white meat chicken filets stacked around two pieces of bacon, two melted slices of Monterey Jack and pepper jack cheese, and Colonel's Sauce (mayonnaise based). As KFC says in its promo:  "this product is so meaty, there's no room for a bun!"
Double Down, Two Ways
There are two versions of the Double Down: Original Recipe® or Grilled. According to KFC's nutritional information:
Sandwich
Calories
Fat (g)
Sodium (mg)
KFC Original Recipe® Double Down
540
32
1380
KFC Grilled Double Down
460
23
1430
Is This Accurate Nutritional Information?
Aside from raising the hair on the back of the necks of  health conscious eaters, the accuracy of the caloric listed count is being disputed. KFC says that the Double Down has 1,380 milligrams of salt and ten grams of saturated fat — already 60 per cent and 50 per cent, respectively, of the U.S. government's recommended daily allowance. An analysis done by the Vancouver Sun estimates that the sandwich logs in at 1,228 calories and more than an entire day's worth of the recommended allowance for fat, cholesterol, sodium, and protein. It is, what Kelly Brownell, director at Yale University's Rudd Center For Food Policy And Obesity, calls a salt bomb. Men's Health Food and Nutrition editor and co-author of "Eat This, Not That: Best and Worst Foods in America, says that "independent labs are estimating that it has around 1,200 calories and over 50 fat grams, based on what's in the other KFC sandwiches."
What Does This Nutritional Gamble Cost?
The Double Down costs $5 or $6.99 as a meal deal with fries and a soda.  In a marketing move — maybe to show community commitment, KFC says that all the buns that would have been used if Double Down was not bunless will be donated to help feed America's homeless.  It is interesting that KFC, previously called Kentucky Fried Chicken, trying for a healthier image, changed their official name to KFC, taking out the prominent "fried" and offering grilled choices. What, then, is this fatty and salty menu item?
SocialDieter Tip:
Double down is high in fat, a good deal of it saturated, and a pillar of salt.  It may also be a caloric nightmare depending on which analysis is accurate.  It certainly is a cardiologist's nightmare.  Who knows what additives there are in the preformed chicken filets, the processed cheese, bacon, and sauce?  There are other healthier options on the menu at KFC:
Grillled chicken:  190 cal, 6g fat, 1.5g sat fat, 550mg sodium
Tender Roast Sandwich (no sauce):  300 cal, 4g fat, 1.5g sat fat, 660mg sodium
Tender Roast (with sauce):  410 cal, 15g fat, 3g sat fat, 790mg sodium
Grilled Chicken Ceasar Salad (without dressing and croutons):  200 cal, 6g fat, 3g sat fat, 570mg sodium
KFC Creamy Parmesan Caesar dressing (1 pkg):  260 cal, 26g fat, 5g sat fat, 540mg sodium
Parmesan Garlic Croutons (1 pouch):  70 cal, 3g fat, 0g sat fat, 140mg sodium