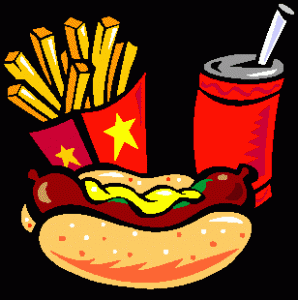 So here's the dilemma: you're stuck in an airport or an Amtrak station – it's late at night and you haven't had any dinner.  You're starving.  Look around.  What's open to grab a bite of food?  You guessed it fast food, fast food, and more fast food.
Or, you're driving your kid and a bunch of teammates home from a hockey game – or soccer game – or lacrosse game – that they played in the middle of nowhere.  The kids are hungry, and so are you. What's available at rest stops and off the nearest exit? Fast food, fast food, and more fast food.
"Can eating fast food help you lose weight?" That's the question asked in an article in The New York Times.  Some of the fast food chains have started offering reduced fat, low calorie, and/or lighter items on their menus.  We all know about Jared and Subway (Subway now has Fresh Fit subs as well as other low calorie options), but other restaurants have jumped on the moving train.
According to the article, Taco Bell has a Fresco menu which has seven items, including burritos and tacos, with less than 9 grams of fat; Starbucks has panninis that are 400 calories or less; Dunkin' Donuts has egg white sandwiches; and Quiznos lists menu items that are 500 calories and under. Other name brand fast food places offer grilled chicken and other lower fat items.  And people are choosing to make these foods a routine part of their diets – some in an attempt to lose weight.
So, is this good or bad?  Can you make a habit of dieting on fast food?
Experts have mixed reactions ranging from good, bad, and no way!
Even though the calorie count of these foods may be low, in almost all cases the sodium levels are way too high. And, do you really know how nutritious they are?  What additives are there? Where did the food come from?  Most fast food outlets receive their portion controlled, seasoned, and probably frozen protein sources like chicken and burgers from a central processing facility with explicit instructions on how they are to be prepared.
In his book, The End of Overeating, David Kessler explains how our bodies get addicted to sugar, fat, and salt. Food vendors want to sell food and so they cater to these tastes by adding these ingredients to their food.  We may not know what's been added, we only know that it tastes good and eventually we begin to crave the food. So, does this create a slippery slope:  eat fast food and consequently crave it?
Asked a slightly different way:  Is fast food always bad and to be avoided at all costs?
Probably not — although some may disagree. Will occasional fast food lunches or dinners spell disaster? Not likely.  If you do eat a fast food meal can you make some choices that are better calorically than others?  You bet.
Bottom line, the SocialDieter has been stuck in airports and train stations late at night and has driven her three sons to many games.  She knows that there are times when the choice is fast food or fast food.  It's comforting in those instances to have choices that are grilled — maybe with some vegetables — rather than fatty, fried, and sauced with a side of fries.  Sure there may be a lot of sodium and  probably other additives, but an occasional meal isn't going to break the bank.
Making fast food a regular part of your lifestyle may be asking for trouble. Building a diet around foods that are fresh, delicious, healthy, nutritious, additive free, and easily available is key – but note the words fresh, nutritious, additive free, and healthy.  Are these descriptive of a steady diet of fast food?
What do you think? Is the occasional fast food meal okay to have?  If you do eat fast food, what menu selections are the best?