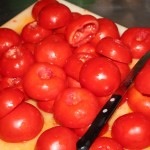 My Tuscan Eating Adventures (Part 1, Farro)
My photos taken outside the cafe and during preparation of the farro salad.
I had the rare pleasure of spending last week in the village of Volpaia, Italy, resident population of 52, a picturesque fortified medieval hamlet in the Chianti Classico wine district. High on a hilltop just north of the town of Radda in Chianti, Volpaia was built in the 11th century as a fortified village on the Florence-Siena border. It is a terra murata, or a walled village, with part of the original protective walls and two of its six towers still standing.
In the middle of the tiny village square, just opposite the restored church, is a charming little café/wine shop/food shop run by a happy woman with a booming voice and matching personality.  The minute she learned I was very interested in the food she served, particularly her panzanella (bread salad) and her farro salad, she invited me into her small kitchen to watch the daily preparation of both.
Just as I learned to cook from my Greek, diner owner, short-order cook and dinner preparing father, she measured nothing, eyeballed proportions,  tasted everything, and used seasonal vegetables and regional products almost exclusively.
Only Use Extra Virgin Olive Oil
As I watched each salad being assembled, I was told repeatedly (and forcefully) that the most important ingredient is extra virgin olive oil.  Believe me, even when you grow up with olive oil as a staple, as I did, at ten in the morning when the booming voice repeats this as every ingredient is added, it makes an impression.  Of course, when you are in a village that has olive trees everywhere – encasing the vineyards, along every road interspersed with cypress tress, and grown in pots in front of homes and the café – with the vineyard's very own olive press residing in  the medieval building across the way – using a generous (really generous) amount of the truly organic first pressed, intense, flavorful, and deep green, is both a cinch and a way of life.
Farro:  A Nutritious And Versatile Grain
The café's farro salad was extremely fresh and delicious.  A little research shows that farro (FAHR-oh) is not wheat, but a plant and grain all its own that looks like light brown rice and has a nutty taste. It is lighter than other whole grains and contains a starch similar to Arborio rice (which is why it can be used in risottos).
Farro, a nutritious whole grain, sometimes referred to as spelt (which is really more like a close cousin), is rich in fiber, magnesium, and vitamins A, B, C and E; easily digested; and low in gluten. A serving size, ½ cup cooked (4 oz), has 100 calories, 1g fat, 26g carbs (3.5g fiber), and 4g protein.
Farro has history – it's the original grain that fed the Mediterranean and Near Eastern populations for thousands of years and was the standard ration that fueled the Roman legions that marched through Italy.
A Healthy and Nutritious Whole Grain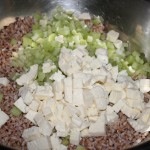 For centuries, farro has been a mainstay of Tuscany, a region in northeastern Italy. Because farro is not an easy grain to grow and can produce low yields, farmers in the Mediterranean switched to grains that had higher yields.  However, with an increased interest in whole grains, farro is making a comeback helped by inventive chefs who are adding it to salads, soups, and meat entrees. With a  husk that adheres to the grain,  faro is high in fiber, vitamin B, and protein. Tuscans often combine it with legumes making it a complete protein meal.
Cooking Farro
Farro (botanical name, triticum dicoccum) is easy to prepare and can be found in Mediterranean groceries, specialty and whole food stores.  Check the package directions because some farros may need presoaking. It doubles in volume when cooked and keeps for 3 to 4 days, covered, in the refrigerator.
There's a lot of leeway with cooking time, but when it is boiled it should be tender but still have some firmness in its center. People have a preference for the level of chewiness or mushiness of their farro and cook it accordingly. Most recipes call for cooking it anywhere between 20 to 40 minutes.  It can be eaten hot or at room temperature, as a salad, side dish, cereal, or added to soup.  It continues to absorb liquids even when taken off the heat, so it can really plump. It's darn hard to overcook it.
Volpaia Salad de faro
This is the recipe from the café in Volpaia.  No measurements – everything to taste.  They put the farro in cold water, boil it for 15 minutes, rinse it in cold water, and then let it cool to room temperature before adding the other ingredients.
Ingredients
Spelt (farro)
Tomatoes, cored, seeded, chopped
Celery
Onion
Mozarella
Salt, pepper, extra virgin olive oil
Fresh basil for garnish
Put farro in cold water. Bring to a boil and cook for 15 minutes
Drain and rinse in cold water
Mix in tomatoes, celery, onion, mozzarella
Add salt, pepper, extra virgin olive oil to taste
Adjust seasonings before serving
Tip:
Farro makes a great nutritious and filling salad.  Think about adding other proteins: chicken, tuna, hard boiled eggs, for a main dish salad.  In cooler weather use it for risotto or a pilaf or add it to soups as you would barley or rice.
Stay tuned for more Tuscan eating adventures and photographs, including my morning spent in a Tuscan cooking class and lunch at the home of the chef and owner of the Volpaia vineyards.  So good!