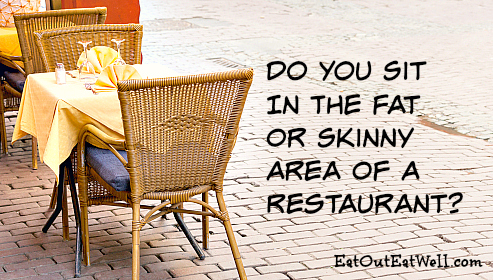 Choose your seat carefully. According to Brian Wansink, Director of Cornell's Food and Brand Lab, where you sit in a restaurant does have an effect on how much you eat!
Scratching your head yet?
After mapping the layout of 27 restaurants across the country and analyzing what and where customers ate, here are some general findings and recommendations from Wansink and his team:
Diners who sit the farthest from the door eat the fewest salads and they are 73% more likely to order dessert.
People who sit at darkly lit tables or in booths eat fattier foods.
Diners who sit within two tables from the bar, drink, on average, three more beers or mixed drinks (based on a table of four) than a group even one table farther away.
Diners order healthier foods when they sit by a window or in a well-lit area. Wansink speculates that seeing sunlight, people, or trees might make you think about how you look which, in turn, might make you think about walking — which could prompt you to order a salad.
People at uncomfortable high-top tables tend to choose salads and order fewer desserts, perhaps because it's harder to slouch or spread out.
Conspicuous consumption, or eating in an area where other people can see you, seems to cut down on overeating. If it's darker, Wansink thinks you might feel more "invisible."  Since it's not too easy to see how much you're eating, you feel less conspicuous or guilty.
The "fat" table? Try near the TV screen. The closer you sit to the screen, the more fried food you'll probably eat because you're distracted and likely to order seconds and refills.
Some additional findings in Wansink's book, Slim by Design:
Skinny people face away from the buffet when they eat.
Thinner people choose smaller plates.  It takes less food to fill up the plate causing you to eat smaller portions.
Diners sitting at high-top tables tend to order more fish and salads.
Diners at regular tables order more vegetarian entrees and more vegetable sides.
Diners at tables near the window have fewer drinks and have more side salads.
Diners at tables closer to the TV screen and the bar order more chicken wings and drinks.
Diners in booths order more ribs and desserts.